AC Milan v Inter Milan: Financial troubles hit both clubs
By James Horncastle
European football writer
Last updated on .From the section Football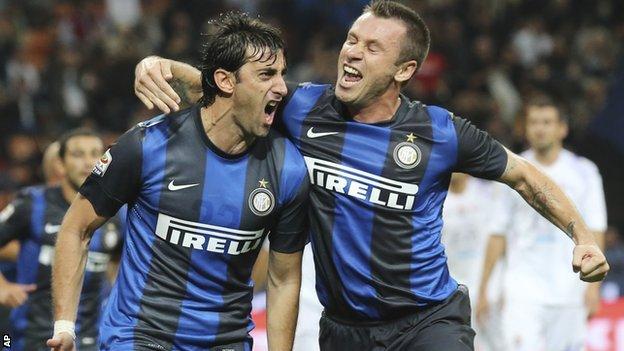 It's a wonder what the Madonnina - the little golden statue on the lantern spire of Milan's cathedral after whom the famous derby between the city's two great football clubs is named - would think ahead of Sunday's derby.
After all, she can have seen few beginnings to a season like this one for AC Milan and FC Internazionale.
From her place high in the sky, the Madonnina was perfectly placed to witness the low point both teams reached a fortnight ago.
Milan lost the third of their opening four games in Serie A away to Udinese, making it their worst start to a campaign since 1940.
Inter were also beaten by bottom of the table Siena, meaning they had suffered consecutive defeats in their first two home matches - something that had not happened since 1937.
Quite remarkably considering it was already late September, both Milan and Inter were still yet to win in front of their own supporters at San Siro. This was unprecedented. For both to be in difficulty at the same time is a historical rarity.
Traditionally, if one of the Milan sides has an off year and are not challenging Juventus for honours, the other is on form. Excluding the two occasions when Milan were relegated, both have only ever finished outside the top five together in Serie A in 1942, 1958 and 1986.
Although it's still early days, the collapses of a couple of weeks back led many to fear that it might occur all over again. "The anti-Juve doesn't live here anymore," wrote Il Corriere della Sera. Indeed, if you combined the number of points that Milan and Inter had at the time, they were still trailing the league leaders and reigning champions by three.
It was a sorry state of affairs. "Only [the city of] Milan can boast to have won 10 European Cups and Champions Leagues with its clubs - Milan with seven, Inter with three," wrote La Gazzetta dello Sport. "They've made history in Europe but are falling apart in Italy."
How had it come to this?
Well, the reality is Milan and Inter are both adjusting to a new financial reality, one that, within the context of Italian football's structural problems and Uefa's new fair-play regulations, acknowledges they cannot go on spending money, making losses and, in essence, living beyond their means.
Both are headed in a new direction. Many of the players who helped Milan win the Champions League in 2007 and Inter do the same in 2010 have been moved on. This summer was an end of an era as legends Alessandro Nesta, Gennaro Gattuso and Clarence Seedorf left Milan. Filippo Inzaghi also retired while Inter said goodbye to Julio Cesar, Lucio and Maicon.
To many it was about time. All except maybe Nesta were no longer consistently contributing at a high enough level and, with all due respect, represented a burden on the payroll. Milan also chose, despite at one point claiming they were "99.9% staying" to make the "painful but necessary" decision to cash in on their best players and two of the league's biggest stars, by selling Zlatan Ibrahimovic and Thiago Silva to Paris Saint-Germain for £56m.
No club could seriously expect to absorb such a sizeable loss in quality and, above all, personality in one fell swoop without experiencing a dip in form.
Inter's transition has been more gradual but no less turbulent. They were slow to realise that after winning the treble under Jose Mourinho in 2010, a cycle came to an end.
Mistakes were made in transfer windows, but ultimately loyalty to an ageing core proved damaging. The coaches changed - from Rafa Benitez and Leonardo to Gian Piero Gasperini and Claudio Ranieri - but the players remained the same.
After hitting rock bottom six months ago, Inter boldly promoted their talented youth team coach and winner of the inaugural Next Gen series, Andrea Stramaccioni.
Like Pep Guardiola at Barcelona, the hope was he would bring a fresh approach.
Yet even though Milan and Inter looked to have recently turned a corner - both are unbeaten in their last three games in all competitions - the feeling is that Napoli, and not them, are Juventus's main rivals for the Scudetto.
That, of course, does not make this derby any less important. Inter, who are back up to third, have won the last two and appear to have a slight edge.
Milan need the fans on their side. After the sales of Ibrahimovic and Thiago Silva back in July, a section of ultras held a mock funeral for the club outside its offices in Via Turati. It was followed by the lowest season tickets sales since Silvio Berlusconi bought the club in 1986. Only 23,765 were sold amid great disillusion.
Milan have taken the extreme measure of releasing a video imploring their supporters to come to San Siro and get behind the team. "Lads, a derby without you makes no sense," captain Massimo Ambrosini told the camera. "Now more than ever, we need your help," added Stephan El Shaarawy.
Despite clashing with El Clasico in Spain and Le Classique in France on Sunday night, the Derby della Madonnina still deserves your attention.
The spotlight will fall on two players.
The first is Antonio Cassano. He was traded to Inter from Milan in exchange for Giampaolo Pazzini back in August and, while not entirely traitorous considering the number of players to have made the switch, he has stoked things up by saying: "For me Inter are a lot stronger than Milan."
Cassano has talked the talk but also walked the walk by making the best start to a season of his career, scoring four goals in four appearances in Serie A.
Yet the player everyone's excited about before the derby is El Shaarawy. Known as the Little Pharaoh by virtue of the fact he is half Egyptian, the spiky haired Milan attacker is one of the brightest prospects in Serie A. Still only 19, he made after Euro 2012 and has found the net five times in his last four games for Milan.
Both will be hoping to ensure the Derby della Madonnina does not end in a draw for the first time in eight years. Obviously, no one wants to lose it, but, given the current circumstances, a win would arguably be more important to Milan.
With his team down in 11th place, Massimiliano Allegri is under pressure. He has the club's "total confidence", but there has been friction between him and his principal backer, Milan's chief executive Adriano Galliani, this season. A reported bust-up with Inzaghi, who is now in charge of one of club's youth teams, only exacerbated matters.
It promises to make for compelling drama. San Siro is often referred to as La Scala del Calcio: football's equivalent of Milan's world-renowned 18th century opera house. The stage is set once more for a real spectacle.