Gianfranco Zola: Watford manager says 1-0 wins are 'not in their DNA'
Last updated on .From the section Football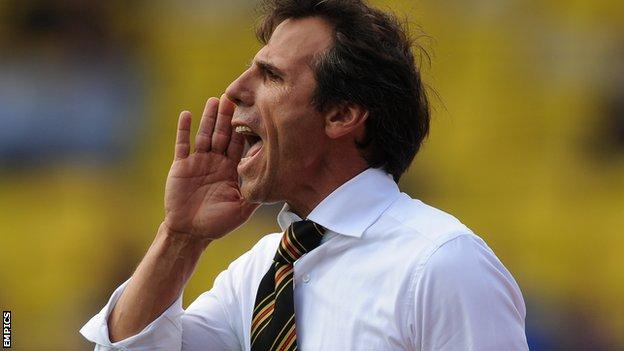 Gianfranco Zola has admitted the concept of grinding out a 1-0 victory is not in his Watford team's DNA.
Consecutive away wins have lifted the Hornets up the Championship table, and Zola is hoping to maintain the momentum at home to Middlesbrough on Saturday.
"It would be nice to win a game 1-0 but it's not in our DNA at the moment," Zola told BBC Three Counties Radio.
"We need to score many goals to win games. We're an offensive team, but we're trying to improve the stability."
Former Italy international Zola, who has seen his side win at both Huddersfield and Charlton in the last week, added: "It's magic what victories can do for you. It's a fantastic feeling and we want it to keep going as long as possible."
Zola acknowledged the 3-5-2 system he currently favours is working well, but warned of the need for his players to be flexible.
He said: "At the moment it's giving good results and we have a good balance, but it's not a definitive system if I can say that.
"It's important this team knows how to play two systems, so we can change depending on the game we need to play. With the type of players we have we can play both systems."
Zola believes home support can be a major factor against Middlesbrough.
"I hope the crowd will be full of enthusiasm [after the recent results], but expectations can be good and they can be bad," said Zola.
"In this league no result can be taken for granted, but the supporters can give us a 12th man against a team that needs our respect."