Off The Bawl - 29 September
By Tam Cowan
Off the Ball presenter
Last updated on .From the section Football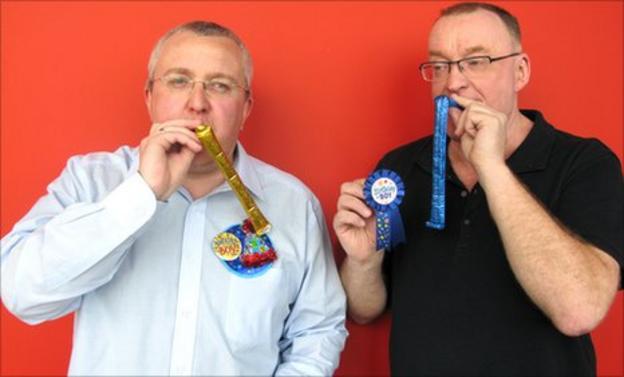 Greeeeeetings!!! We were joined in the studio on Saturday by former referee Kenny Clark and John 'Bomber' Brown.
Anti-Rangers bias at the BBC? "Nonsense!" emailed Danny Bhoy from Coatbridge. "If that was the case, you wouldn't have two Rangers legends on the same show..."
Les Austin also scoffed at the suggestion by saying: "Forres Mechanics v Rangers must be the biggest game of the day as it was the main football story on last night's Reporting Scotland..."
Stuart Cosgrove only just passed a late fitness test on Saturday after coming down with a heavy cold. But at least two listeners wish he'd gone home to his bed.
Peter Duddy from Wishaw said: "Hey Cosgrove - get a hankie! My radio is dripping wi' your snotters!"
Anon said: "I can't believe I'm paying my licence fee to listen to Cosgrove's runny nose. It's absolutely disgusting."
Tam also got it in the neck on the back of Motherwell's woeful display at Ibrox in the League Cup.
Andy in Pollok said: "As a Rangers fan, I really enjoyed the game in midweek and I think the players will be even better when they go through puberty..."
At least John Brown had his fans. Jim in Balfron said: "I have one abiding memory of Bomber. He was playing with Rangers at Celtic Park and, when the visitors scored, all the players ran to congratulate the scorer. Not John. He turned to the main stand and skipped all the way down the touchline giving the V-sign to the Celtic fans with a big smile on his face. Some of the punters were raging but, even as a Celtic fan, I found it hilarious."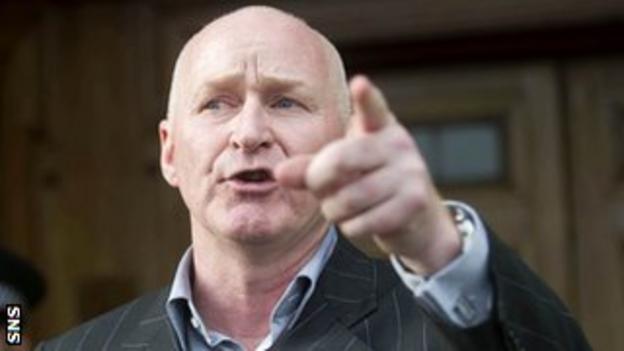 Sticks and stones may break my bones, but names will never hurt me. That was one of our talking points on the back of the flak we got for having a go at Super Ally the previous week.
As Celtic fans en route to Fir Park celebrated a 3pm Saturday away game for the first time since 2005, we also asked what you would bring back from the good old days.
And, following the report that only one in five Scots eat their recommended five-a-day, our Team of the Week was The Fruit & Veg XI.
Here's another selection of the most petty and ill-informed texts and emails on radio...
STICKS AND STONES
Peter said: "It's a disgrace for anyone to refer to the Old Firm as The Ugly Sisters. My sister isn't the prettiest and she feels paranoid whenever it's mentioned."
Michael in Shawlands said: "I am often referred to by my pals as a dick. I think this is discriminatory against private detectives."
Barney in Neilston said: "I heard that Lorenzo Amoruso put in an official complaint about Davie Dodds being called The Elephant Man - he reckoned this infringed his copyright!"
IF I COULD TURN BACK TIME
Sam said: "If I could turn back time I'd get rid of those plastic seats at Cappielow. At least the old wooden benches didn't cut off the circulation below the knees."
Cat in Glasgow said: "Please bring back Sportscene on a Saturday night with Archie Macpherson and Scotsport on a Sunday afternoon with Arthur Montford."
Eddie in Dollar said: "I'd love to go back to the days when football was a contact sport..."
Degsy in Kelvindale said: "As a Rangers fan I'd like to go back to the glory days when my team was managed by John Greig and featured Billy Urquhart, Cammy Fraser and a young John McDonald. I'd kill to watch a mid Premier League side struggling against St.Mirren and I wish I'd never heard of the name David Murray."
TEAM OF THE WEEK
The Fruit & Veg XI
(aka Apple Tel Aviv)
Owner: Charles Greengrocer
Manager: Dick Avocado
1/ Hugh Sprout
2/ Asparagus McPherson
3/ Butternut Squash McKinlay
4/ Tommy Pineapple Ring (c)
5/ Dougie Bell Pepper
6/ Neil Lemon
7/ Brussels Latapy
8/ Pear van Hooijdonk
9/ Stan Cauliflower
10/ Jorge Cougette
11/ Omar Five-a-Daley
AND FINALLY...
Another email this week from a listener who claimed: I Bet You Don't Read This Out! (Zzzzzz...)
Gary Murdoch said: "I bet you don't read this out. Did you know there's a train station in Wales called Llanfairpwligwyngyllgogerychwyrndrobwllllantysiliogogogoch?"
Nope, there's no way we could read that one out...!
PS. The song that played us out? As a tribute to the late, great crooner Andy Williams, we finished with his classic hit the Rangers U-16s were singing last Wednesday while playing Motherwell... It's So Easy!
PPS. Mark and Shona Kennedy emailed to say: "Tam, could you mention the campaign to save your old school Calder Primary in Motherwell?"
Consider it done - twice!
To join in the fun on this Saturday's show, call 0500 929500, text 80295 or email offtheball@bbc.co.uk
Listen to the most recent Off the Ball programmes.
Download the latest Off the Ball podcast.