Joey Barton asks Marseille fans to judge him by performances
Last updated on .From the section Football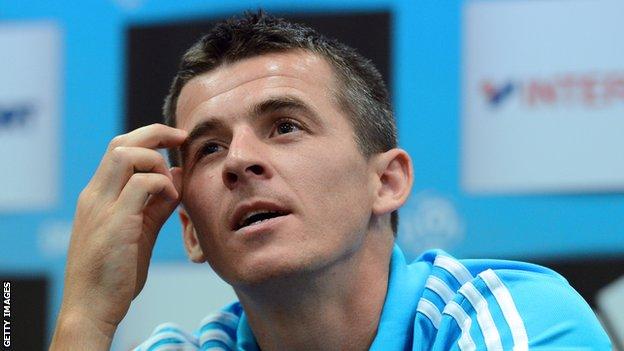 Joey Barton has appealed to Marseille fans to judge him on his displays in France after dismissing reports about him in England as "like Hollywood".
Barton, 30, is set to make home debut for the French club against Limassol in the Europa League on Thursday after joining on loan from QPR.
"It's difficult because of my bad reputation, I find it a bit unfair," midfielder Barton said.
"They are stories like Hollywood, far from the truth."
Midfielder Barton joined Marseille at the end of August and has made one appearance in the Europa League. But he has been prevented from making his league bow because of suspension.
The former Manchester City player was banned for 12 matches by the Football Association after being found guilty of two counts of violent conduct.
But Barton says he is enjoying his new life in France after escaping negative reports about his disciplinary record.
"The English media love to make headlines and dramatise because, as English football is the number one sport there, it is is also one that generates the most media coverage on television and in the press," he added.
"However, I hope that people in France, and here in Marseille, judge me on what I do here and not in relation to what they read."
On life at Marseille, Barton said: "The team has already won six league matches, so it will not be easy for me to make the side.
"There are some very good players here, but when you want to be a big club you must have a team of 15, 16 or 17 players.
"All players cannot play every week and I hope to bring something different to the team and become an important member."