SFA president Campbell Ogilvie - I'm not doing my job properly
Last updated on .From the section Football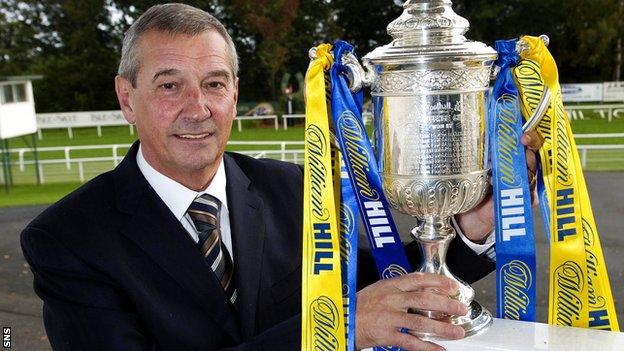 President Campbell Ogilvie insists he has been a frustrated onlooker during a turbulent period for the Scottish FA.
"If I'm totally blunt, I believe that in the last six months I haven't been doing my job properly," said Ogilvie.
Ogilvie has stayed out of discussions regarding Rangers because of his previous involvement with the club.
The former Ibrox company secretary was also a beneficiary of the Employee Benefit Trust scheme run by the club, which is currently under scrutiny.
The EBT arrangement and its operation by Rangers is the subject of an appeal to a First Tier Tribunal after HMRC claimed for more than £49m in unpaid tax.
The Scottish Premier League has also established an independent tribunal to investigate claims of alleged dual contracts, stemming from the use of EBTs.
Ogilvie was employed by Rangers from 1978 until 2005, when he joined Hearts.
Asked if his position would become untenable if the FTT decided the scheme had been run illegally, Ogilvie responded: "If there was a feeling that it was causing an issue then I would have to discuss that with the association.
"I've tried to be up front throughout this process and really we will have to wait for the outcome of the tax tribunal and the SPL tribunal.
"I don't see that it should make any difference to the way I operate."
Rangers chief executive Charles Green claims the SFA and SPL offered the club a way into Division One if they accepted guilt over the claims of dual contracts.
The game's governing body have not commented on the matter and Ogilvie could not shed any more light on the subject.
"Because of my previous involvement with Rangers, I didn't take part in any of the discussions," he explained.
"My understanding is that the group buying Rangers had asked for all possible scenarios to be put on the table.
"I could not take part in the debate and that has bothered me. But there was no alternative.
"As president, I believe I have a role to play.
"I haven't met Charles Green. I'd like to sit down and have a discussion about the way forward with him but I can't comment."
Talking at the draw for the Scottish Cup third round, Ogilvie was quizzed on Scotland manager Craig Levein's decision to overlook in-form Sunderland stiker Steven Fletcher.
"My view is clear," explained Ogilvie. "The manager is employed to pick the team and it's not for myself or any another board member to interfere in that process.
"I don't think that it's right that a director should in any way influence team selection."