Newry City's membership of the IFA is terminated
Last updated on .From the section Football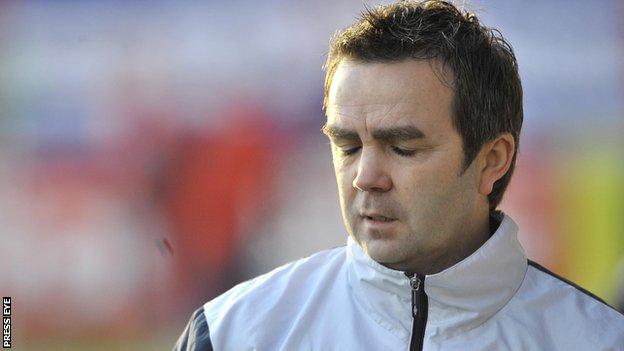 Newry City's Irish FA membership has been terminated after the club's registered directors told the governing body that they did not intend to appeal against a High Court winding-up order.
The IFA suspended the club following last week's winding-up order.
On Friday, the IFA announced that all results from Newry City team's this season "will be expunged".
Newry players will be unable to register for clubs who play in professional leagues until 1 January.
This means they cannot sign for other Irish League or League of Ireland clubs until January.
The club's players will also be unable to play in the Irish Cup or the Intermediate Cup, which are both subject to professional regulations, until January.
Newry players will be able to immediately register as players for clubs that participate in amateur leagues.
Friday's IFA statement added that the association would continue to work to promote football in the Newry area.
"The association will continue to work with all the various stakeholders, including MLAs...and will provide assistance and guidance in any way that it can to support any plans that may be put in place."
A petition brought by former manager Gerry Flynn against the company which runs Newry was granted in a High Court hearing lasting only minutes.
Earlier this year Mr Flynn was awarded £25,000 in damages after claiming wrongful dismissal and breach of contract against the club.
When no money was paid out he instructed his lawyers to issue winding-up proceedings against Newry City FC Ltd.
Sources close to Mr Flynn stressed that his petition was an attempt to resolve the issue rather than seeking the club's closure.