Magowan dismissal a 'disgrace' says Crusaders boss Baxter
Last updated on .From the section Football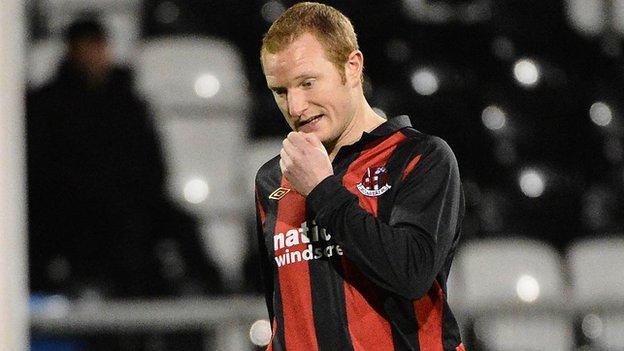 Crusaders boss Stephen Baxter has blasted as a "disgrace" the red card shown to defender David Magowan in the Co Antrim Shield game against Bangor.
Referee Hugh Carvill produced a straight red after Magowan challenged Chris Shimmon, just 90 seconds after he came on as a Crues substitute.
"The sending off was a disgrace - it was the cleanest win of the ball and it was not even a tackle," said Baxter.
"I'd be the first to say if it was a sending off but that was poor."
Magowan was dismissed 18 minutes from the end of the 2-1 victory for Crusaders at Seaview.
"Young Magowan slides in and wins the ball very cleanly, a yard in front of the lad." added Baxter.
"He slides through, lifts his foot, the boy boy falls over him and the ref sends him off.
"How the referee on the far side doesn't see it, because I'm watching it from my side and it's a clean win of the ball."