BBC Sport meets former Arsenal midfielder Freddie Ljungberg...
Last updated on .From the section Football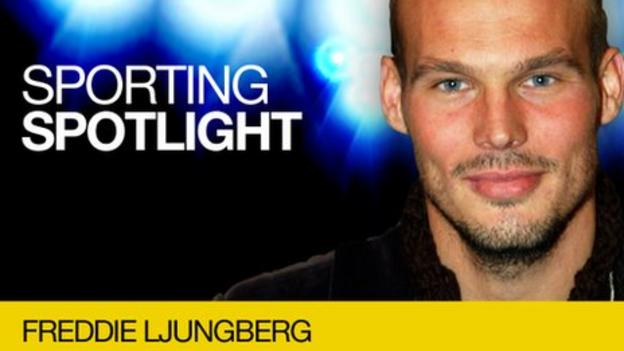 Former Arsenal, West Ham, Celtic and Sweden midfielder Freddie Ljungberg is under the spotlight in the first of a series of new features.
What is your current status?
I retired quite recently. I am working though. About six months ago I started a property company.
Would you become a manager?
I've already been asked to do some assistant manager roles but I've said I want to spend a year with my family and then I might come back to it. I'm very happy with the decision. I'm going to live in England - that is going to be my home as I like it here.
What do you do all day now that you aren't playing?
I love architecture and I'm looking to design. I try to find new projects that will be valuable for our company so I am quite busy even though I have just retired. Most people know about the fashion thing but for me architecture and design go hand in hand and it something I have always loved. Now I can do it a little bit more.
Do you still do modelling?
I haven't modelled anything lately. I do some shoots and stuff but I'm not representing anyone at the moment.
How did your underwear modelling go down in the dressing room?
You had to ask that! My pictures were printed off and put up at the training ground - in the toilets, the diner and I was everywhere. There was a lot of banter going on. In the end, I ordered in a few boxes of the underwear for the players and after that they were quiet. It was all a bit of fun.
When will Arsenal win a trophy again?
I would love to say this year but probably not. They have got new players but they have to keep their best ones [which they have not been doing]. If they sold some of the squad players then so be it, but don't sell your best ones.
Who was the best player you have played with?
I have to say Dennis Bergkamp. He had so much talent and ability but he never showboated it. He did it for the team. He never felt the need to show that he could do this or that for the fans. That's something I really respected - he always wanted the best for the team.
Who was your toughest opponent?
Zinedine Zidane. In the same way as Bergkamp, there was always a purpose to what he did. I loved the way he played. They may have both looked calm but they had this enormous winning mentality.
Lionel Messi or Cristiano Ronaldo? And why?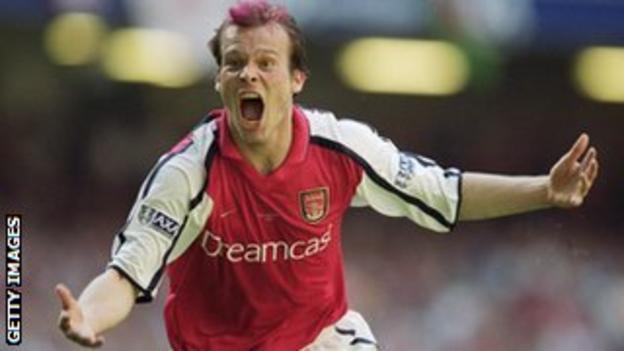 They are both great but I would say Messi. If you look at Ronaldo he is probably as good as it gets physically to be a football player. He has the height, speed and weight. He does shoot a lot and, for me, with the ball as it is now it can move whereas in my day the ball didn't move so those shots would not go in. When you look at Messi he doesn't have that physique and it is just pure talent to play football. He doesn't go for the long-range shots because he is so good that he can get so close to the goal that he can just roll the ball in.
When you look at results, who do you look out for?
Always Arsenal. I know it's a boring answer but that's it. I hope they can challenge for the title this season. They have talent but my worry is that you need a big squad to win the Premier League. When the winter months kick-in with a lot of games, and you need to rotate, you need your squad players to be just as good as your starting XI.
What was the highlight of your career?
Winning trophies are highlights. Also, the connection I have with Arsenal fans. On a personal note, I won the Premier League player of the year award [in 2001-02]. That hasn't happened to other Swedish players and was nice for me.
And the low point?
We had a great team for many years at Arsenal but in the Champions League on a few times somehow we conceded an away goal in the last minute. You think you are through and it is all happy days and then someone scores and you can't get back. In a short, not winning the Champions League was my low point.
Which sporting icons would you invite to dinner?
Socrates if he was still alive. He was my idol when I was young. My dad gave me his shirt. Mike Tyson as well. I loved watching Tyson box and it would be nice to talk to him to see what he is like as a human being and the problems he had. Also, Carl Lewis.
Do you follow Joey Barton on Twitter?
Absolutely not.
Do you see the point of Twitter?
I'm not a big user of Twitter but my problem is that there are a lot of people using my name and communicating with former team-mates of mine. I got a lot of calls once after a story on Twitter that said I had agreed to be the manager of Arsenal! I was like, 'no, no, no'.
What's the best bit of banter you have heard?
In the old days at Arsenal, there was amazing banter with the English players. For the first two years, I didn't understand a word.
What's the best bit of advice you've ever had?
In football, when I was young one of my coaches told me not to look at the ball, always look up. That was extremely valuable information. In life, my parents always told me that if I ever came home and said that I had done something because everyone else had, that was not an excuse. They said: "You should always think, make your own decisions, stand by them and not blame it on anyone else."
Who will win the Premier League this year?
I always say Arsenal, but Manchester City have a very strong squad. The big problem with defending the title is that you don't always fight as much. If they can keep their sharpness, their squad looks the strongest.