Salif Sane seeks place in Senegal team
By Oluwashina Okeleji
BBC Sport, France
Last updated on .From the section Football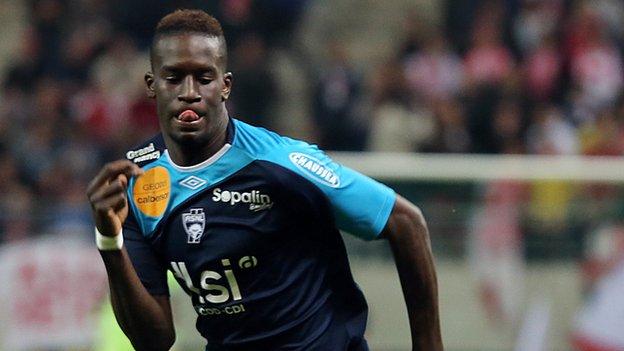 AS Nancy midfielder Salif Sane has revealed his desire to play for Senegal rather than his country of birth France.
The 22-year-old was born in Lormont, Bordeaux, and has impressed Les Bleus' youth selectors in the past but he also qualifies for Senegal because his parents were born there.
Sane's older brother, Ludovic Lamin has already represented Senegal, having established himself in Bordeaux's midfield.
And Sane, three years the junior of the two, is keen to follow in his sibling's footsteps.
"Some people spoke to me in France [about playing for the France national team] but I'm only interested in playing for Senegal because that is my root," he told BBC Sport.
"I have always looked up to my brother in life and it would be a dream come true to play alongside him in the colours of Senegal."
A ball-winner, who is blessed with immense tackling and passing ability, Salif started his career at star-studded Bordeaux.
He was sent out to Nancy on loan at the start of the 2011/12 season, where he enjoyed regular football and scored two goals in 35 appearances.
The towering performances from the 6ft 4inch player have brought praise from the fans and media - and Salif has become an integral part of the Ligue 1 side under veteran coach Jean Fernandez.
Under Fernandez Sane's role has changed from a defensive one to a midfield one, he began his career as a right back.
He hopes that his form and versatility will earn him a place in the Senegal squad in the near future.
"I don't travel to Senegal often but I want to know more about my country, the people and football culture," he said.
"Some of my friends don't understand why I want to play for Senegal. But I'd rather focus on doing well and hope they will look in my direction someday.
There is another fundamental reason that reinforces his desire to represent the West African country - he wants to keep the peace in his family.
"I followed the story of the Boateng brothers (Jerome and Kevin-Prince) during the World Cup and I don't want that tension in my family." he said.
"One represents Germany and the other Ghana - I don't want that sort of unnecessary focus on the Sane. It will be too much for our parents.
"But first, I must give my all on the pitch, do well and convince the Senegalese selectors that I deserve a place.
"It's a big desire but I need to work hard to live that dream."