Tim Sherwood coy over Blackburn after Steve Kean's resignation
Last updated on .From the section Football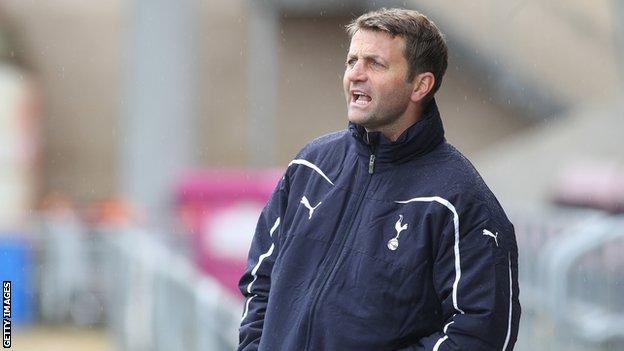 Former Blackburn skipper Tim Sherwood has played down speculation he is set to replace Steve Kean as manager of the Championship club.
Tottenham coach Sherwood, 43, who captained Rovers to the Premier League title in 1995, has been heavily linked with the job after Kean's resignation.
"That's all they are - just rumours," he said. "That's all I know about it.
"I've got a great job where I am. There is nothing to consider. It's just speculation."
Kean quit on Friday, with his assistant Eric Black taking caretaker charge for the 1-1 draw at Charlton.
Rovers managing director Derek Shaw insists appointing a manager to replace the Scot will be a significant decision in Blackburn's history.
Shaw told BBC Radio Lancashire: "Every managerial appointment is important and there are one or two interested names that have come through already."
But he refused to be drawn on potential suitors, adding: "I'm not in a position to start with all that nonsense. When there's something proper, everybody will be told.
"Steve's decided to move on and Blackburn Rovers have to move on now.
"Obviously the phones have been ringing and people have been putting names forward for the vacancy. We'll have to discuss that in the next week or two."
Kean had travelled with the squad to London on Friday afternoon, in preparation for Saturday's game, but later released a statement to confirm his departure after 21 months at the helm.
At a media conference earlier in the day, with owners Venky's.
But his Ewood Park reign was dominated by supporter unrest, with many fans choosing to stay away from home games since their relegation from the Premier League.
Kean's final game in charge of Rovers, a 2-1 home defeat by Middlesbrough on 21 September, was watched by 13,405 people - more than 9,000 fewer than the average attendance they were attracting in the top flight last season.
And the week subsequent to Blackburn's first league loss of the campaign was filled with speculation that Kean was on the brink of being sacked.
A supporters' group had also released a statement claiming morale amongst fans had "hit an all-time low" and had threatened a boycott of their next home fixture against Wolves on 6 October.
Shaw thinks the constant pressure and questioning of his position, from both fans and his superiors, was the main reason for Kean's decision to resign.
"In fairness, he probably felt that we can't go on [the way things were]," Shaw continued.
"You win a couple of games and things go quiet, then you lose and there's booing and the aggravation that goes with that.
"He's a married man, he's got children and I think he's just had enough so he's decided to call it a day. It can happen to all of us. We get under pressure and decide enough is enough."
Black, meanwhile, says he has not been told by the owners how long he will remain in charge of the team.
"It's been a bit of a whirlwind 24 hours," said the former Motherwell and Coventry manager. "I'm sure there will be discussions at some time.
"I didn't expect it last night, but it's his [Steve's] decision and I fully respect it.
"There will be a lot of speculation but the owners will make that decision."
Defender Jason Lowe has said the club are in safe hands with Black is in caretaker charge and a successor is found.
"He's certainly a fantastic coach," said Lowe. "He's got a great presence about him and his enthusiasm has been infectious on the training field.
"Whoever they appoint, I'm sure it will be the right choice and all the lads will get behind the new manager."