Belgian Tom Saintfiet is upset over his sacking by Yanga
By Emmanuel Muga
BBC Sport, Dar es Salaam
Last updated on .From the section Football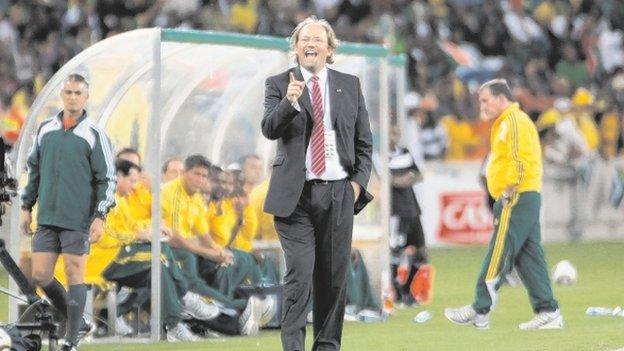 Belgian coach Tom Saintfiet has hit out at the board of Tanzanian club Yanga for sacking him after just two league games in charge.
Yanga have begun their campaign with a draw and a loss and Saintfiet says that's not enough to judge him as a coach.
"After two games you cannot say we had false start - Mourinho has the best players in Spain but he does not win every game," he told BBC Sport.
The 39-year-old made a promising start at Yanga as he lead them to the East and Central African regional club title, the Cecafa Cup, in July this year.
The former Ethiopia and Namibia coach was also shocked at the way he lost his job.
"We were in a group discussion [with the club's board], they asked me my opinion about what was going on, I made my my thoughts very clear, but other people had other ideas on how the club should be run, and the club president said you are hereby sacked," he told BBC Sport.
The club's vice chairman Clement Sanga said the coach was sacked after failing to enforce discipline among the players.
"There was bad relation between the administration and the technical bench, which affected discipline on the pitch," he explained.
"So a decision was taken to sack the coach."
Following his sacking Saintfiet also complained that many of the players bought before the start of the season were not his choice.
"They bought players for their own benefit," he said.
"I had my list, but they bought players who were not needed."
Since he was sacked on Friday evening he says the club has not contacted him about finalising any money he is owed.
"I have not heard anything anymore from the club. I have no further information about what the plan is, I have noticed that they talk more about it in the media," he said.