Manchester United: Paul Scholes continues to roll back the years
By Ben Smith
BBC Sport at Old Trafford
Last updated on .From the section Football450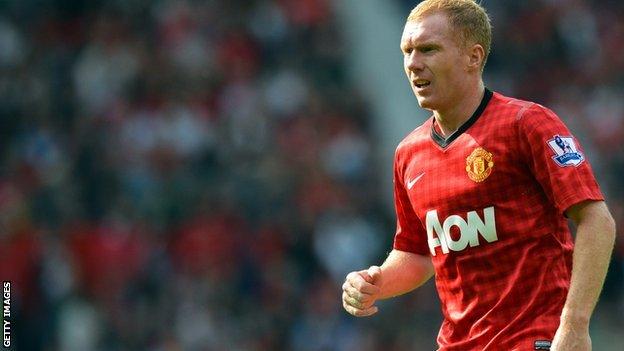 Paul Scholes will have wondered what all the fuss was about.
Scoring a goal to cap a 700th appearance for Manchester United appeared nothing more than a straightforward day at the office for the 37-year-old as he trudged off to yet another standing ovation after 70 minutes on Saturday.
Perhaps we should have expected it, given he had found the net on his debut and his 100th game, then - after an own goal on his 200th - strikes on his 300th, 400th and 500th appearances for the club.
"He was fantastic," Sir Alex Ferguson said. "We always remember Paul as a young player, being able to ghost into the penalty box. He doesn't need to do that anymore because we want him to play in central midfield.
"But that is him scoring in nearly every one of his 100s. It's fantastic."
Scholes has always been modesty personified and was not interested in interviews or added attention after the match. He had done his talking on the pitch - it was typical of the man. Throughout his career he has scored goals, run matches and then gone home to his family for tea.
No bright lights, no premieres, no A-list hangers-on.
His performance in the 4-0 victory over Wigan was sporadic rather than sumptuous. And yet there were still those raking cross-field 40-yard passes, those delightfully dinked balls around the corner and even a sprinkling of those challenges that demonstrate that tackling has never been his forte.
Rewind a year and Scholes was kicking his heels on the sidelines, helping with coaching, with the academy pupils, all the while itching to show what he still had to offer. He could have taken the easy option and slid off into retirement in the knowledge he had done it all, had nothing left to prove.
And yet at Old Trafford on Saturday, here he was pulling the strings in the midfield of a team challenging for the Premier League title and showing that, despite Father Time chipping away at his mobility, he still has those flashes needed to decide matches.
Scholes's legs may be a little heavier and the goals may not come as readily but Ferguson's faith in him has never wavered. "It was Paul's vision and and beautifully weighted passing that inspired us to produce our best football," Ferguson added.
Another of United's elder statesmen also passed a landmark on Saturday, with Ryan Giggs making his 600th Premier League appearance - the first man to do so. "They will always produce quality," Ferguson said of Giggs and Scholes.
"They could be playing in 10 years' time in former players' games and still show the fantastic flair they have for the game. I'm very lucky to have them. It is not a matter of having pride in them, it is a case of saying to myself 'I have been lucky to have had two devoted players like that'."
Now the torchbearers of United's next generation must watch, listen and learn from those who still tread the turf. It was typical of Scholes to drift into the box just when his team needed him to relieve the pressure on what was threatening to turn into a tricky afternoon.
Ferguson is harnessing the past to shape the future. Tom Cleverley and others are being given the chance to learn from a man Zinedine Zidane, no less, described as "undoubtedly the greatest midfielder of his generation".
And when Scholes does eventually call it time, for good, it will fall to one of them to fill a considerable void.