St Mirren defender Darren McGregor targets second recovery
Last updated on .From the section Football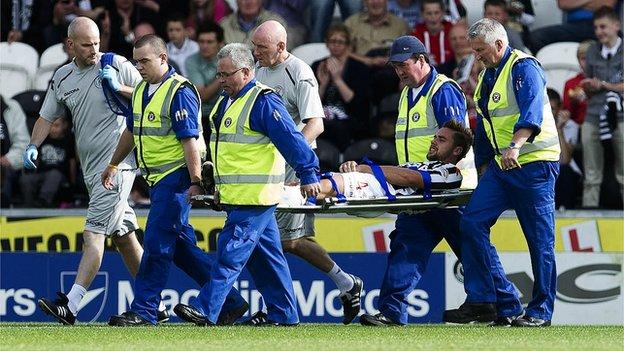 St Mirren defender Darren McGregor hopes he can replicate the recovery he made last season as he bids to return from a second cruciate ligament injury.
The 27-year-old missed most of last term after injuring his other knee.
And McGregor is using the support he's received from the club and its fans as an incentive to return to the team.
"When I do come back, I hope people will say 'Darren McGregor came back from two cruciate injuries, it can be done'," he told BBC Radio Scotland.
McGregor was stretchered off during , almost exactly a year after sustaining cruciate ligament damage against Dundee United.
"I knew right away," he said. "My whole leg just went numb and I went into a state of shock because I knew what I had done and I just could not comprehend that I had done it again.
"It was difficult to take. I broke into tears. It was just one of these things that I just could not believe.
"It's done now. I can't change the past. It's a hard card to be dealt, but I'm now the only one that can change my position.
"I'm just going to train as hard as I did the previous year and the positives that I can take from it are that I've been there before, I know what it takes to get back and I've got a great team around me."
The former Cowdenbeath player is staying positive as he bids to return to the first team.
"I'm good," he added on Sportsound. "That's almost four weeks since the unfortunate accident. I've got an operation booked in for 27 September. Once that's done and dusted, I can get back on the road to recovery.
"The surgeon says it can be anywhere between six and nine months. The last time I managed to get back within seven but, to be honest, I never felt 100% up until maybe a month or two before my last accident.
"You never feel yourself until 11 or 12 months. I'm hoping to hit the six-to-seven month mark, like I did the last time.
"Physically, it [the previous recovery] was easy for me but the mental side of it - trusting your knee and going into tackles - it's almost like a sixth sense. You know if it's right or wrong. I felt physically that I was ready but mentally I still felt, I was a wee bit short."