Dean Furman to the fore with Bafana Bafana
Last updated on .From the section Football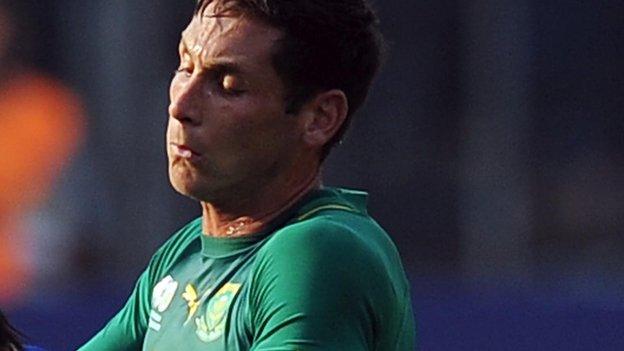 Plying his trade as the captain of English third-tier side Oldham Athletic, Dean Furman could have been forgiven for thinking he may never get the chance to represent the the land of his birth.
Yet the 24-year-old former Chelsea trainee, who is currently playing in League One, has become an overnight sensation in South Africa after starring for Bafana Bafana in September's friendlies.
Furman made his debut in a 1-0 defeat by Brazil in Sao Paolo and then gave a man-of-the-match display in the 2-0 win over Mozambique on Tuesday, which has ensured he is firmly in contention for a place in the squad for the 2013 African Nations Cup to be held on home soil.
"I never gave up hope - I never give up on anything because that's the type of person I am," the Cape Town-born player told BBC Sport.
"Obviously League One doesn't get much coverage back in South Africa but I just tried to do my best for Oldham in the hope that someone would be watching me and taking notice.
"It was an amazing experience to finally play for Bafana and it was great to get the win in front of the home fans."
Furman added: "I wouldn't say I've established myself yet but now I need to go back to Oldham, put in some good performances and hopefully the coach will take notice of me again."
It's now nearly 20 years since his parents moved to London, although many of Furman's family remain in South Africa.
He joined Glasgow Rangers in 2006 after spending three years at Chelsea's youth academy and eventually joined Oldham in 2009 having made only one senior appearance for the Scottish giants.
And despite new Bafana coach Gordon Igesund's decision to select him without ever seeing him play live, Furman believes he settled in nicely to international football.
He said: "I enjoyed the experience a lot - everyone made me feel comfortable and it was great to get out there and show what I could do. The extended time of this trip meant I was able to get to know all the players and the other staff.
"I think we can take a lot of encouragement from the last two games. We were really unlucky to lose the match against Brazil and now we have to build on that."
Furman is following in the footsteps of a number of South African-born 'ex-pats' who have represented Bafana such as Sean Dundee, Pierre Issa and Davide Somma - and he may not be the last.
Igesund has already hinted that he is hoping to take a look at several other European-based players before he names his final Afcon squad, with Norwich City's Andrew Surman and Ricardo Nunez of Slovakians MSK Zilina both understood to be in contention for a friendly in Poland in October.
For now, the newest recruit to the Bafana set-up is confident Igesund is building a side capable of challenging for the title they first won in 1996.
"The coach put his point across from the get-go," he said.
"He sat us down at the first training session in Brazil and told us exactly what was expected from us as players. We worked really hard because everyone wanted to impress the new management team and hopefully we will get better and better the closer we get to the tournament."