Rangers: Lee Wallace pens new five-year deal at Ibrox
Last updated on .From the section Football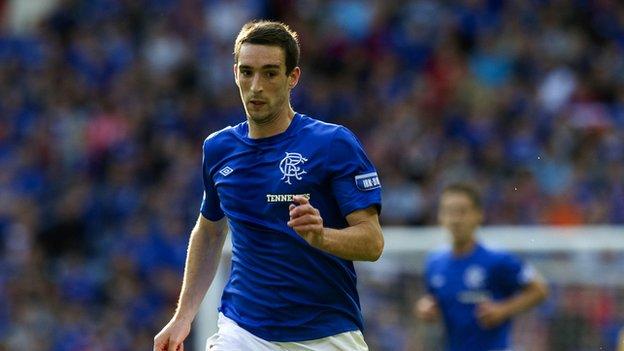 Rangers defender Lee Wallace has signed a new five-year contract, keeping him with the club until 2017.
Twenty-five-year-old Wallace, who has six Scotland caps, moved to Ibrox in the summer of 2011.
"Lee has been a really solid citizen since he came here," said Rangers manager Ally McCoist.
"He has shown a level of commitment since he has been here and he has extended that level of commitment, so we are delighted."
Wallace was the first senior players to commit himself to Rangers after the club was relaunched by a new company and subsequently placed in the Scottish Third Division, while others invoked their right not to have their contract transferred.
"It should be noted and mentioned that there has been plenty of coverage of the lads who have left," said McCoist. "That was their decision.
"It should also be noted that the first person to say he was up for the cup for staying was Lee Wallace. That shows you the kind of character he is.
"He has been exactly everything we thought he would be - strong, totally committed and with no shortage of talent down the left-hand side.
"Him extending his contract is a real boost for the club, I think it's a thank you to the fans."
Speaking ahead of Saturday's trip to Annan, the club's manager also said he believed Rangers would be welcomed into the Scottish Premier League, should they be able to progress through the Scottish Football League.
Earlier this week, Rangers chief executive Charles Green questioned whether the club would be wanted in the top flight. The Ibrox side were placed in the Third Division after having their bid to take over the SPL share formerly owned by Rangers rejected.
"I certainly don't feel that all the SPL clubs are against us - far from it," added McCoist. "We've got some very, very good friends in the SPL and that will continue in years to come.
"One or two clubs within the SPL were well within their rights to vote us out of the SPL for their own reasons but I firmly believe we've got some very good friends in the SPL.
"I firmly do not believe that the 10 who voted against us were totally against us. I think a few of them were maybe railroaded into that decision.
"That's only my personal opinion. It might be wrong but it's the way I felt at the time, being at one or two of the meetings."