Mark Bowen says Wales players must 'understand responsibilities'
Last updated on .From the section Wales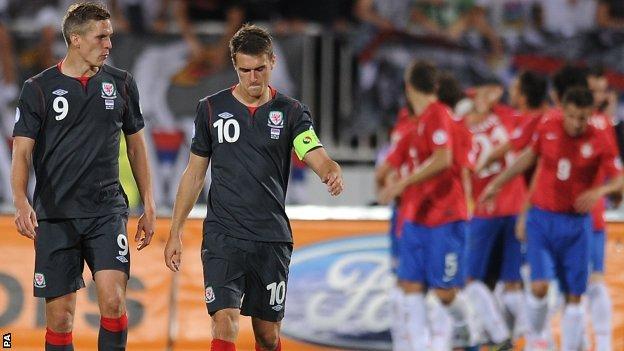 Former Wales international Mark Bowen says the nation's players must be made to "understand their responsibilities" ahead of their next 2014 World Cup qualifier against Scotland.
Welsh football is reeling after the 6-1 drubbing by Serbia in round two, a fifth consecutive defeat this year.
Bowen, now assistant manager at QPR, said: "I don't think you can just brush it under the carpet."
Wales face Scotland in round three on 12 October.
Midfielder Joe Allen has admitted the players are the ones "letting everyone down" at the moment, stressing manager Chris Coleman had done "everything a manager can do for us in terms of preparation".
Coleman, though, insisted the buck stops with him. But the manager did aim a telling message to his players saying: "I was told this was the golden generation, well let's see it then."
Bowen, assistant to former Wales manager Mark Hughes, sympathises with manager Coleman's plight, drawing comparisons with QPR's 5-0 opening Premier League defeat by Swansea City.
"The bottom line is that for a country like ours to go into any international match losing arguably six or seven starters from your main 11, it's going to be difficult. Very difficult," said Bowen in an interview for BBC TV programme Sport Wales.
"They lost confidence very quickly - that happens at times. Our opening day fixture against Swansea, we got beaten 5-0.
"It hurts and the fortunate thing is we have time to go and work with the players hour after hour to try and put that right, where Chris won't.
"He'll certainly have an intensive few days leading up to that Scotland game.
"But with the quality that he's got there and the quality he's got in himself and his coaching staff, I think they'll turn it around."
Former Wales star Barry Horne believes Coleman and his players can improve their fortunes while Robbie Savage says Wales are a "laughing stock".
However, Bowen says Wales' players must rekindle the desire they have shown in previous games.
"From start to finish I didn't feel there was that real desire that we've seen from the group of players before," he said.
"They lost confidence very quickly.
"That said you've still got to put an expectation level on these players.
"I don't think you can just brush it under the carpet and almost say it doesn't matter and [everyone must] make sure the players understand their responsibilities to each other, to him [Coleman] and to the country.
"They need to put in probably a better shift than they did."
The World Cup qualifying loss in Novi Sad was the country's worst since the 7-1 loss to the Netherlands in 1996.
Wales are bottom of Group A, having lost 2-0 to Belgium in Cardiff on Friday in their first qualifying game.
Watch more reaction to Wales' defeat in Serbia, and an interview with Liverpool manager Brendan Rodgers on Sport Wales, BBC Two Wales, Friday, 14 September (21:00 BST)