Michael Owen: I should have left Manchester United earlier
Last updated on .From the section Football321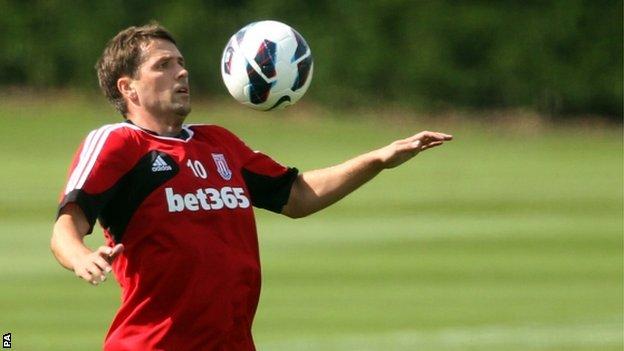 Michael Owen says he has regrets about spending last season at Manchester United before his release this summer.
Owen was urged to stay at Old Trafford by Sir Alex Ferguson a year ago but made only four first-team appearances for United in 2011-12.
The former England forward, 32, is now with Stoke City after signing a one-year deal with the club last week.
"In hindsight, probably with that extra year, it might have been better if I had moved in many ways," he said.
"I was on the bench a lot of the time, but then when the manager says 'you have a big role to play and we want you to stay for another year', it was great to hear that from someone like Sir Alex Ferguson."
As it turned out, Owen's final season with United was blighted by a thigh injury that prevented him being available from November until the final few weeks of the campaign.
Owen could make his Stoke debut against Manchester City on Saturday - a team he scored a dramatic injury-time winner against for Manchester United in September 2009.
That was probably the highlight of his injury-hit time at Manchester United and he is looking forward to making a bigger impact at Stoke.
He added: "I want to perform and I want to finish my career on a real high. I'm still only 32 and I still feel as if I have a lot left in me.
"I've always scored goals, no matter what team I have been in, so as long as I can stay fit and healthy, then I'm sure I can do that here at Stoke."
Owen was interviewed by Football Focus this week and asked if he felt he got the respect he deserved.
He has won numerous accolades and titles during his career. He helped Liverpool win League Cup, FA Cup and Uefa Cup in 2001 and was awarded the prestigious Ballon d'Or the same year.
He is also fourth on the list of all-time England goalscorers after finding the net 40 times for his country.
"I wouldn't know what view people have of me," he said. "I don't really mind what type of view in many ways.
"I think real football people appreciate what a good player I was and hopefully think I've still got a lot to offer.
"Obviously I'm not 18 anymore and the fastest thing in the Premier League and a good finisher and everything else.
"I'm still a decent finisher but I'm obviously not at the absolute peak of my powers. I was probably that at 19 or 20 but I still feel I've got a lot to offer.
"Evidently Stoke do as well and evidently a few other Premier League teams did because they were a few teams I was in talks with."
Watch the full interview with Michael Owen on Football Focus on Saturday, 15 September from 12:15 BST on BBC One.