Ebbsfleet boss Liam Daish to get players focussed earlier
Last updated on .From the section Football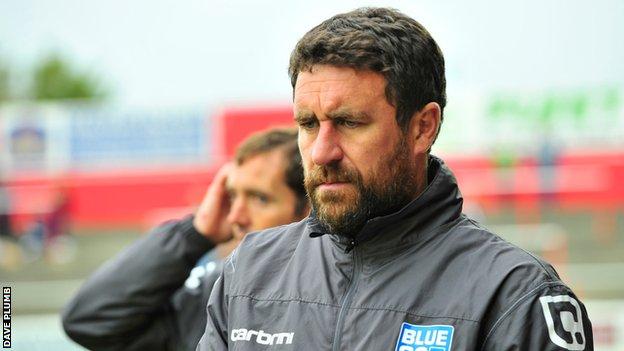 Ebbsfleet manager Liam Daish believes beginning mental preparations earlier will improve results on the pitch.
The Fleet travel to Southport on Saturday buoyed by their first home win of the season against Mansfield.
"That was the difference with us last Saturday," Daish told BBC Radio Kent. "We tried to get the players switched on earlier.
"There were a few home truths. The players have to focus a little earlier. It's self motivating and focussing."
Ebbsfleet United, a part-time club, have struggled largely this season, winning just once before last weekend's three points.
"It won't be as bad as it was last week," he said.
"Players will be told that we need to refocus now. It will start tonight in training and getting us geared up for a massive game on Saturday."
The squad will travel to Merseyside on Friday to allow as much preparation time as possible for the clash.
Their recent match against Hereford United had to be delayed after their coach got stuck in traffic.
Daish added that even the journey north would be used to get the players into the zone.
"Players can be on a coach too long doing others things, listening to music or playing cards," he said.
"There has to be a shut-off point leading into the ground thinking about what they're going to be doing on the day.
"You have to start switching on earlier and not when the whistle kicks off. You have to start thinking deeper and longer."