Off The Bawl - 12 September
Last updated on .From the section Football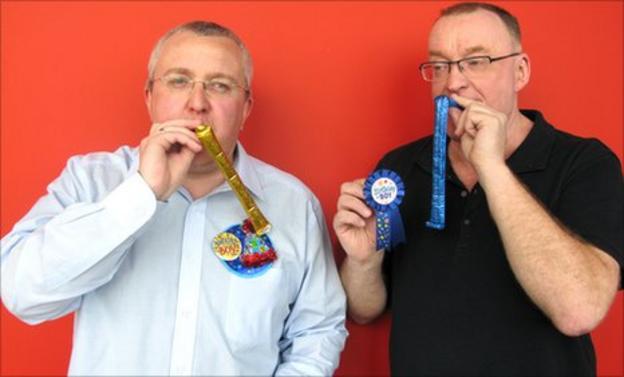 Greeeeeetings!!! "At last - a guest host to adequately fill Stuart's mighty boots!" That was Jack in Dundee's verdict on this week's stand-in presenter Pat Nevin.
And, on the day Scotland played Serbia at Hampden (sorry for reminding you...), it was the former international winger who dominated the show after we asked listeners to suggest a task for Pat to perform on Sportscene later that night.
Joined in the studio by Jimmy Calderwood and journalist Kenny Millar (co-author of Football Manager Ruined My Life), we also looked at the best and worst half-time entertainment (in the week Rangers launched their £1m Crossbar Challenge) and, ahead of our stumbles on the Road To Rio, our Team of the Week was The Brazil XI.
Here's another selection of the most petty and ill-informed texts and emails on radio...
A CHALLENGE FOR PAT
Martin in Kirkliston said: "Pat should do the show while wearing his 1986 Scotland shorts - the ones with the garter band."
Craig from Livingston said: "Get Pat to mention as many song titles by The Smiths as he can."
Davey in Edinburgh said: "Ask Pat to say 'that was world-class from Gary Caldwell' on the highlights show."
Martin in Motherwell said: "I challenge Pat to slip the word 'spatula' into his post-match analysis."
Finlay Goodlad said: "Get him to wear a mankini."
John said: "How about doing the entire show in a Chris Eubank-style monocle?"
Mark Halliday in Saltcoats said: "Ask Pat to do the whole show in a pair of glasses with no lenses in them - just the frame."
Ross in Greenock said: "What about getting Pat to confuse Rob in the opening exchanges by chucking in a few Serbian phrases which he could easily get via Google?"
Brian Dick in Aberdeen said: "Pat should do the show with a football glued to his right foot to highlight the fact he never passed the ball to anyone."
Bisto said: "Ask Pat to wear a Viking-style helmet."
Jon in East Kilbride said: "Pat should wear the Scotland mascot outfit (Hampden Roary) minus the head."
Stevie in Jordanhill said: "What about Pat missing out every second word as if his microphone is faulty, in the style of Norman Collier?"
Some great suggestions.
And fair play to Pat who, as those of you who tuned into Sportscene on Saturday night will testify, plumped for not one, not two, not three, but FOUR challenges...
1) He winked at the camera when introduced by Rob (as suggested by Johann in Killie).
2) He got a player's first name wrong, referring to Gary Caldwell as his brother Steven (as suggested by Stevie in Troon).
3) He mentioned Off The Ball legend Tommy Ring - by saying Steven Naismith's challenge on a Serbian player was more suited to the boxing "Ring" (as suggested by Marty in Greenock).
4) And he whistled at the end of a sentence - to show his disbelief at Naismith's blatant assault (as suggested by Duncan from Shawlands).
Well done, Pat - a true Scotland legend!
FOOTBALL MANAGER
James in Glasgow said: "I love it. Ye cannae beat taking a wee team like Montrose to the Champions League on Football Manager."
Fergie in Aberdeen said: "Don't tell Tommy Docherty, but a former physio at Old Trafford has brought out a similar book to Kenny Millar's. It's called Football Manager Stole My Wife!"
HALF-TIME ENTERTAINMENT
Robert on his way to Hampden said: "I was at Broadwood watching Clyde v QoS and we played bingo at half-time! There was a new bingo hall opening nearby and they did this to help promote it. Never again."
Andy said: "I took part in the 'I'm So Dizzy' half-time game at Tynecastle. It involved resting your forehead on a pole in the ground and running round it 10 times before taking a penalty. Not a good idea - particularly after a fair few pints in the pub beforehand. Needless to say, I missed my penalty on the hallowed Tynie turf."
Stephen on the M74 said: "I remember seeing inflatable sumo wrestling during a Rangers v Celtic cup final at Hampden - one blue, one green. Very bizarre."
Kinnon from Leith said: "The weirdest half-time entertainment I've ever seen was at Love Street when they recorded an Irn Bru advert with loads of bodies in a nude pile-on. There were quite a few bemused looks from some of the older stalwarts in the North Bank."
Steven in Glenrothes said: "Quite the most bizarre pre-match entertainment I ever saw was at an Old Firm Skol Cup final when the sponsor decided to have a Viking battle re-enactment. You'd think it would have been over by the time the players emerged from the tunnel, but no. I remember the Celtic players had no access to the penalty-box as Viking warriors battled away, seemingly unaware of the fact the players were even there."
Bryan said: "A favourite of the St Mirren away fans used to be testing the knowledge of the other teams' announcers by asking for the likes of Guni Torfason, Mark Yardley and other such legends to contact the nearest steward. Cue hilarity in the away end as the poor, unsuspecting announcer carries on totally unaware..."
Peter on the M6 said: "At a Partick Thistle v Celtic game back in the 1980s, they brought on Metal Mickey at half-time."
Ally in Dundee said: "During the early days of Jim McLean at Tannadice, he organised a pie-eating contest. But that's nothing compared to a penalty-kick competition that was only open to guys with the name Jim Smith. Weird!"
TEAM OF THE WEEK
The Brazil XI
Stadium location: Ayr Toon Centre.
Manager: Steve Paterson (aka Pele)
Assistant: Jackie Maracana
1/ Andes Goram
2/ Salsa Papac
3/ Santosh McKinlay
4/ Sol Samba
5/ Rio Ferdinand
6/ Eamon Copacabannon
7/ James Rain Forrest
8/ Sao Paulo di Canio
9/ Tony Coffee
10/ Nacho Bossa Novo
11/ Tommy Ring (Brazil host the 2016 Olympics)
The "Brazilian" bench: Razor Ruddock, Shave Narey and Willie Bauld.
PS A special mention for Craig in Larbert who said: "For the Brazil XI, what about Alan Brazil."
Thanks, Craig, it must have taken you ages to come up with that one...
To join in the fun on this Saturday's show, call 0500 929500, text 80295 or email offtheball@bbc.co.uk
Listen to the most recent Off the Ball programmes.
Download the latest Off the Ball podcast.