Sierra Leone Sports Minister unbans SLFA
By Mohamed Fajah Barrie
BBC Sport, Freetown
Last updated on .From the section Football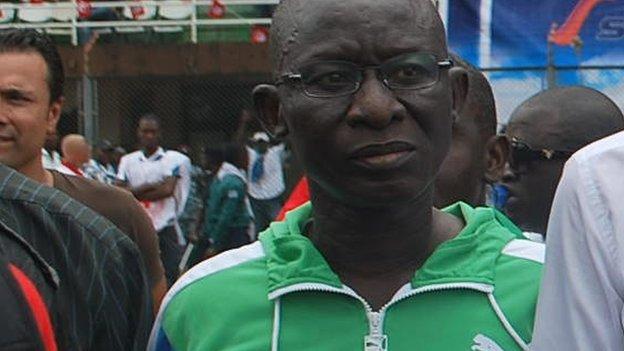 Sierra Leone's Sports Minister Paul Kamara has backtracked on his decision to dissolve the country's football association.
He has reinstated the Sierra Leone FA's executive committee following the intervention of the country's President Ernest Bai Koroma.
Kamara has also announced that a new date for elections scheduled for this coming weekend will soon be announced.
The minister's U-turn follows confirmation from Fifa on Wednesday that the developments in Sierra Leone were being monitored.
The world governing body told BBC Sport that it had been "trying to further establish all the relevant facts" regarding the Sports Minister's decision to dissolve the SLFA.
"Should this decision be confirmed, it would constitute a clear governmental interference according to art 13 and 17 of Fifa statutes," Fifa said via email.
"If this were to be the case, this would then be submitted to the competent FIFA body for further discussion, and potential sanction."
As Fifa has zero tolerance for political interference in football matters, the Sports Minister's action could have led to Sierra Leone's expulsion from international competitions.
The SLFA had been set to vote for a new president at the weekend following the resignation of its previous head, Nahim Khadi, on health grounds.
Kamara said that election will go ahead but without Rodney Micheal, whose intention to participate in the poll had enraged him.
Michael remains banned from all sporting activities.
Earlier this week, Kamara had told a local radio station: "Rodney Michael will not contest the SLFA elections, if so it'll be over my dead body."
But SFLA acting president Joseph Samba Kelfala insisted that the elections will go-ahead this week as planned.
Kelfala also said that Michael is eligible to contest the election.
The minister has also publicly backed female candidate Isha Johansen for the SLFA's top job.
Earlier in the year Fifa intervened in a dispute between the sports minister and the SLFA over the running of the the national team.