St Mirren reject 10000Hours' fans takeover
Last updated on .From the section Football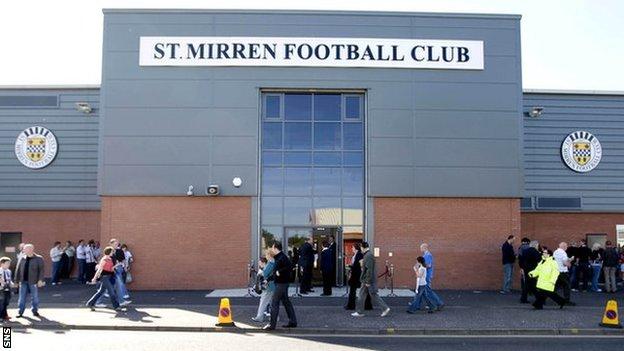 St Mirren have rejected the final offer from the 10000Hours group that had been looking to turn the Paisley outfit into a supporter-owned club.
The consortium of majority shareholders says it was not convinced that the proposal was "sustainable".
10000Hours, one of at least three parties hoping to take control, had been asked to revise its bid last week.
But the controlling consortium has issued a statement on the club's official website rejecting the bid.
"After numerous proposals, the consortium of majority shareholders in St Mirren Football Club Limited (SMFC) has decided that, in the best interests of SMFC, they are unable to accept the final offer from the 10000Hours group," it said.
"The longer this went on, and with the numerous changes that were made to the proposals, it appeared that most of the 10000Hours' major backers seemed to be having doubts about the concept.
"It became clear that it appeared to be becoming more difficult for the 10000Hours board to come up with an appropriate offer which would have given confidence to the selling consortium that their proposals were sustainable."
The consortium was still hopeful of selling the controlling interest in the club.
"The consortium have always stressed, and continue to stress, that they will do their utmost to make sure that it is the right people who buy their shares in SMFC," it said in its statement.
"There has been press speculation with regard to other parties' interest in the shares and, at this point, the consortium would like to clarify that they have spoken to many different parties.
"But, up until now, none has come up with an appropriate offer which satisfies the consortium's criteria.
"The consortium's shares will continue to be available to the right person, but until that happens they will continue to work with the rest of the board in the best interests of SMFC."
10000Hours has pledges from more than 1,000 fans and had agreed to buy a 52% stake for £1.5m over three years.
The fans group has yet to comment.