Portsmouth: Sulaiman Al Fahim linked to Middle East bid
Last updated on .From the section Football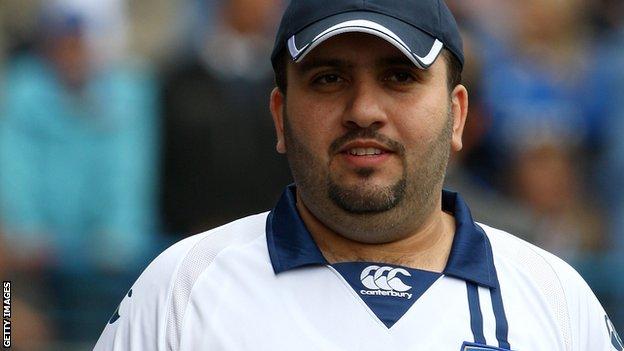 Portsmouth's administrators have confirmed that they have received a bid from a Middle Eastern consortium, which is thought to include former owner Sulaiman Al Fahim.
Pompey are currently in administration, with debts of about £61m.
The Portsmouth Supporters' Trust and former owner Balram Chainrai are both vying for control of the club.
Administrators PKF say a Middle East consortium is now interested and is "waiting for clarification on funding".
Al Fahim had a short-lived spell as owner of Portsmouth in 2009 before selling to Ali al Faraj.
A report by the Dubai-based magazine Arabian Business said the potential Middle East investors had put $20.4m (£12.77m) into an account held by Dubai Bank on 30 August.
London-based accountancy firm Born & Co are believed to be representing the Middle East consortium.
Portsmouth have been in administration since February, following the collapse of parent company Convers Sports Initiatives.
The PST and Chainrai's company, Portpin, have both had a Company Voluntary Arrangement of two pence in the pound agreed by unsecured creditors of the club, with administrator Trevor Birch currently assessing which bid is the best offer.
Chainrai is owed £17m by the club and holds Fratton Park as security but the PST has offered him £2.75m to relinquish his hold on Pompey.
Birch has set the pair a deadline of Friday, 14 September to finalise their bids for the club.
He had said that, as neither deal was close to completion, he was unable to decide which offer was in the best interests of creditors.
Last month, former Watford owner Laurence Bassini registered his interest in Portsmouth.
However, the advanced nature of the current talks with Chainrai and the PST, as well as the urgency with which a deal needs to be completed, meant Bassini was not considered a serious option at this stage.
It is thought that the same would apply to the Middle East consortium interested in Pompey.
But if Birch is still not satisfied with the bids from the PST and Portpin, then he could start to pursue other options.