Manchester United at forefront of financial fair play bid - Whelan
Last updated on .From the section Football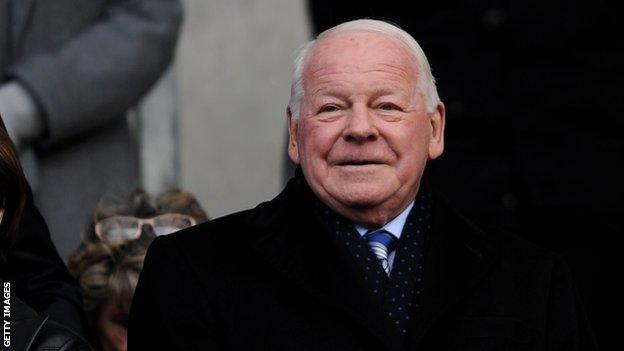 Manchester United have been at the forefront of a push for stricter financial controls in the Premier League, according to Wigan chairman Dave Whelan.
And Whelan says United suggested the measures should also be adopted in the Premier League at a meeting earlier this summer.
"This proposal has come from Manchester United," Whelan said.
"I think [Manchester] City haven shaken them up a little bit, but there should be some controls on spending. Some clubs are spending way more than they can afford and get into trouble - look at Portsmouth.
"The Premier League is so big and powerful and there is so much money around that the clubs try to chase it. Something has to be done so we will support these measures."
Two groups of 10 top-flight clubs, mixed on the basis of size and region, will discuss potential options in detail on Thursday but no decision will be made on any measures.
Any proposal would require approval from 14 of the 20 Premier League chairman to be introduced.
Uefa president Michel Platini told BBC Radio 5 live that Premier League owners are keen to adopt new financial measures.
He said: "The Championship will follow the rules of FFP and I know that some clubs in the Premier League are very happy about that. Many investors in English football will come because of FFP and I think it's a good idea for the future of football.
"Many [Premier League] owners ask me to implement that because they can't do it in their own society."