Danny Galbraith's future to be resolved shortly, say Hibs
Last updated on .From the section Football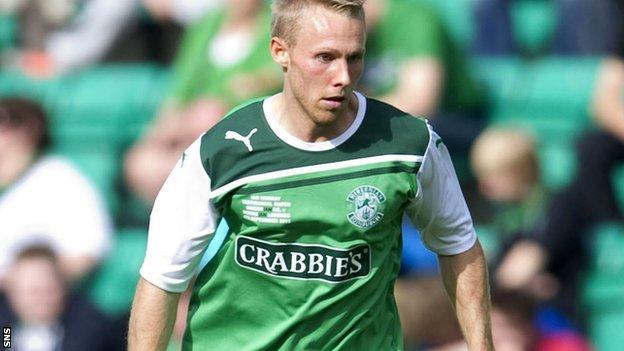 Hibernian midfielder Danny Galbraith should have more clarity over his future in the next week according to manager Pat Fenlon.
Galbraith had been advised not to turn up at the club's training ground after a series of setbacks due to a groin injury.
However, Fenlon thinks the situation will be resolved within the next seven days.
"We need to get him right both mentally and physically and see where he is. He's had a lot of knock-backs," he said.
"Hopefully over the next week we should be able to resolve that situation.
"It's important we look after him and when he does get back into playing that he's physically able to do that and mentally as well.
"It's a case of wait and see and see what progress brings."
The club had said Galbraith had been absent from the club's training ground because of what they described as an "ongoing medical condition".
They insisted that the 22-year-old midfielder had not been disciplined or suspended by the club.
Galbraith, who joined Hibs after being freed by Manchester United in July 2009, has not played since January.
"The club's medical team and the player felt that a short break from training would assist his rehabilitation prior to a further reassessment of his ongoing medical problems," said a club website statement.
BBC Scotland revealed in August that Galbraith, who struggled with injury at the end of last season, had been banished from the club training ground.
Hibs refused to comment at the time and that led to speculation in other outlets about the reasons behind the decision.
"Recent reports in the media have been wide of the mark and hurtful to the player," said a club statement.
"The club hopes that Danny will recover from his playing injuries in the near future."
Galbraith was a youth player with city rivals Hearts but joined Man Utd when he turned 16.
However, his progress was hampered by a series of injuries and he moved to Hibs three years later.
Despite making his first-team debut shortly after joining the Easter Road outfit, most of Galbraith's 63 appearances - 20 coming last season - have been as a substitute.
He was given a new contract by previous manager Colin Calderwood in February last year and that deal with the Scottish Premier League club expires next summer.