Paolo Di Canio column: The transfer window is a good thing
Last updated on .From the section Football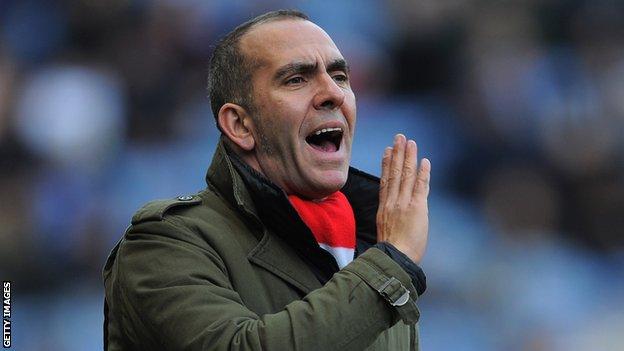 BBC Sport have signed up one of football's most controversial and colourful characters, Paolo Di Canio.
The former Celtic, Sheffield Wednesday and West Ham star will be writing a monthly column for the Sport website, discussing life as Swindon Town manager and commenting on the game's big issues.
To kick-off, the Italian talks about the transfer window...
When it comes to the transfer window, we can all be a bit selfish. It is easy to say it should stay open another month when you still need players, or that it should have closed a month ago if you have all your team.
The rules are that it closes at the end of August. I can accept that.
I see that Tottenham manager Andre Villas-Boas said it would be better to have the transfer window close at the start of the season, but he was likely to say that after losing Luka Modric this week.
If it had closed a month ago, Modric would still be a Spurs player and would have to get his head straight and work for Villas-Boas.
But what if you are Manchester City? Manager Roberto Mancini asks for new players every day, so he would probably want the window to stay open longer.
Maybe if I was asked this question a month ago, when I had all 24 of my players fit and without problems, then I would say close the window at the start of the season.
None of the transfers that have happened so far have surprised me.
Julio Cesar joining QPR would perhaps have been one, but the stories of a move for the Inter Milan goalkeeper started coming out in Italy some days before it happened, so in the end it was no surprise.
I think Manchester United need to strengthen at the back if they are to challenge for the title.
They need a different player in defence, because Nemanja Vidic is a bit older, Rio Ferdinand is injured and the young players they do have are talented but not able to win at the top level straight away.
With two or three more experienced players, they should easily win the league.
They have bought a good player in Robin van Persie. United need a player like him and in my opinion they will finish above Arsenal, who play more attractive football.
I don't think there will be a problem with Wayne Rooney now Van Persie has signed. They can play together fantastically.
I faced the situation many times when I was a player. Another striker would sign, but I always believed in myself, did my best and waited for my time to come. If they were good, then I was happy because it made me fight for my place.
Obviously, there are some players who may get upset and not play their best football, but I don't see this happening with Rooney and Van Persie.
Finally, I have to say how proud I am of my players for their win over Stoke on Tuesday.
They were fantastic and were absolutely all warriors. They worked hard, showed great quality and desire and I could not ask for more.
I don't want to exaggerate but we could have won by more. To win at a place where even Manchester United and Arsenal struggle to score even one goal is fantastic and now we can think about the next round.
Paolo Di Canio was talking to BBC Sport's Gary Rose.