Rangers beat deadline to sign Hearts winger David Templeton

By Brian McLauchlin
BBC Scotland
Last updated on .From the section Football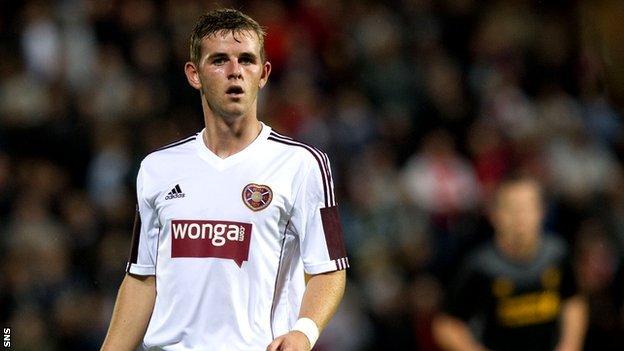 Rangers beat the transfer deadline to sign winger David Templeton from Hearts, but his team-mate, Ryan McGowan, rejected a similar transfer.
Australia defender McGowan held talks in Glasgow after a fee was agreed between the clubs.
But Templeton agreed a move close to the midnight signing deadline, ending a five-and-a-half year spell at Hearts since arriving from Stenhousemuir.
Hearts pointed out that the 23-year-old was in the last year of his contract.
And they said that he had "made it clear he was keen for a change of scene at the end of his current deal" and Templeton signed a four-year contract at Ibrox.
The Third Division club had earlier had bids rejected by Hearts for both players.
It is believed that their initial combined offer was less than £1m, which fell short of Hearts' valuation for the players.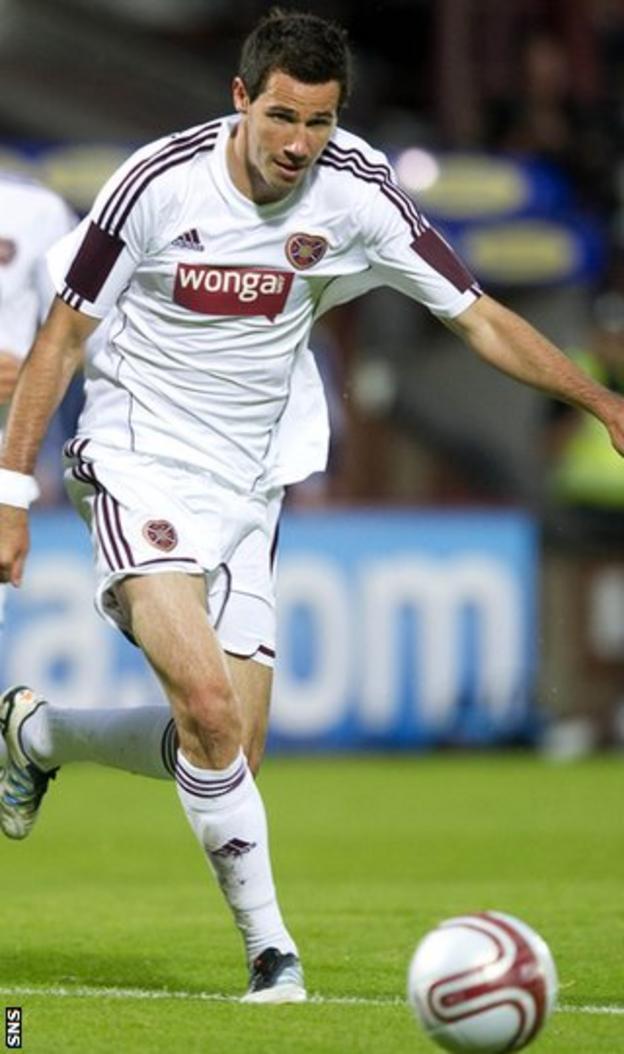 But Rangers increased their offer as they sought to secure their squad in light of a 12-month transfer embargo from 1 September.
The clubs are unclear about whether the deal has gone through because of computer failure at the Scottish Football League.
Rangers manager Ally McCoist believed he needed "five or six" new signings and Rangers chief executive Charles Green said he expected other players to arrive at Ibrox.
"The manager's got a few players on his list," he said. "But obviously it's a matter now of, over the next 24 hours, turning some of these into signings, but I'm sure there'll be names to be announced."
In the end, it appears that only Templeton, who scored in , was added while captain Carlos Bocanegra headed to Racing Santander on loan.
Green said the hunt for players had been held up as both he and manager Ally McCoist had faced Scottish Football Association disciplinary hearings on Thursday.
"Alistair and I have, unfortunately, spent six hours in Hampden for the wrong reasons, when what we ought to have been doing is speaking to agents and speaking to players," he said.
Green also claimed the club were being hampered in making signings by players who rejected a move to the relaunched Rangers still being included in their squad list with the SFA.
A consortium led by Green reformed Rangers after the previous incarnation could not be saved from liquidation but a number of players refused to have their contracts transferred.
Rangers are seeking compensation for five of these players.
"Ahead of this transfer ban being put in place, we still have the ludicracy of not being able to sign the number of players we'd like to bring in, because the players who walked out on their contract are still included in our quota," added Green.
"We're only allowed 22 players over the age of 21, and five of those spaces are being filled by people like Steven Naismith, who played for Everton against Manchester Utd last Monday. How crazy is that?"