Tottenham's Younes Kaboul out for 'four months' after surgery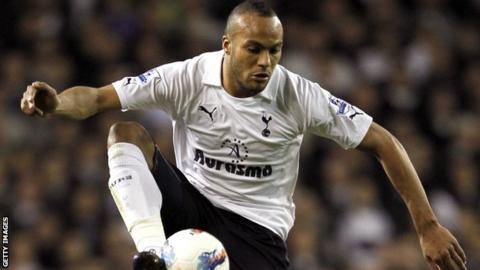 Tottenham defender Younes Kaboul is expected to be out for four months after undergoing surgery in France on a knee injury, the Premier League club has announced.
Kaboul featured in the season-opening defeat by Newcastle, but missed last weekend's 1-1 draw against West Brom.
"Younes Kaboul has undergone knee surgery in France today [Thursday]," a Tottenham statement read.
"The France defender is expected to be sidelined for four months."
Kaboul, 26, had earlier revealed the news he might not play again in 2012 on his Twitter account.
"Morning all, surgery done with success," he tweeted.
"Now looking forward for my rehab. I thank you all for your great support as usual."
He then added shortly after: "Sorry I forgot to mention how long [I will be out for]... should be 4 months."
Having earmarked Kaboul as one of his first-choice centre-backs, the loss of the former Portsmouth player for such a lengthy period is a setback for manager Andre Villas-Boas.
Kaboul could miss as many as 18 league games and his absence may pave the way for captain Michael Dawson's return to the team.
Dawson's future at the club he has served since 2005 had been in doubt since Villas-Boas took charge last month, with a move to QPR falling through last week.
But the 28-year-old England international could now come back into Villas-Boas's plans for Saturday's home game against Norwich and beyond.
Villas-Boas also has Jan Vertonghen, William Gallas and Steven Caulker available at centre-half.