Malaga's Champions League journey clouded by financial crisis
By Andy Brassell
European football expert
Last updated on .From the section Football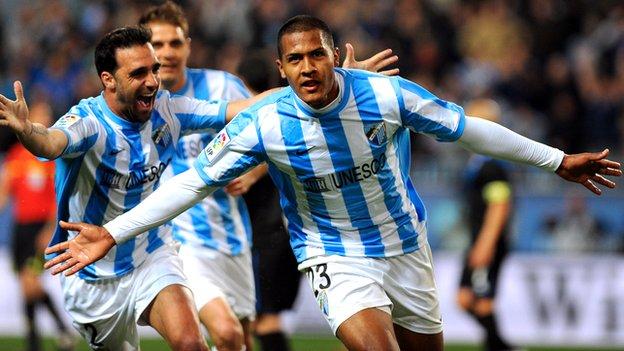 When Malaga's status rocketed following a takeover from the Qatari royal family, it appeared that the route to the promised land of Champions League football would be a smooth one.
But the Andalusians head to Athens for the return leg of their Champions League play-off with Panathinaikos on the back of a journey that has taken a twist or two more than even the most thrill-seeking fan would have hoped for.
Financial problems have meant La Liga's biggest spenders of last season have become the only team in Spain not to sign a single player this summer.
With little money in Spain outside the Barca and Madrid duopoly, there was a real chance for Malaga to become a powerful presence in La Liga following Sheikh Abdullah bin Nasser al-Thani's initial big impression.
A net £50m was spent on players last summer - more than either Barcelona or Real Madrid - and £12m was pledged to build a smart new facility for the club's youth academy.
Arrival in the group stage - and potential ties against the likes of Chelsea, Manchester United and Bayern Munich - have been the aim ever since summer 2010.
And after scraping home in fourth spot on the final day of last season, it seemed like they had taken that chance.
So the club's current financial troubles have come as a shock to many, at least outside Spain. When Malaga should have been strengthening to ensure Champions League progression, they have been selling to stay afloat with the owners' interest waning.
Of course, Arsenal were one of the first beneficiaries of Malaga's problems. Star man Santi Cazorla was sold to the London club for £15m - £1.5m less than the Andalusian club paid Villarreal for the Spain midfielder last summer.
When talented young forward Salomon Rondon and experienced Netherlands defender Joris Mathijsen followed him out the door, it looked like a full-blown exodus. High-earning coach Manuel Pellegrini's position was also questioned as rumours grew of the club's impending sale.
In reality, the warning signs have been there for months. Former Manchester United striker Ruud van Nistelrooy and Cazorla were among a handful of players to threaten legal action over unpaid wages last season.
The LFP (Liga de Futbol Profesional) had imposed a transfer ban in January after the club missed a payment to Osasuna for Spain full-back Nacho Monreal.
As the club's staff in Spain struggled to establish a working line of communication with Qatar, matters were left in disarray by the sudden death of the board's chief advisor Jose Carlos Perez in February, following a stroke.
Internal morale had been shaken. Former Bolton defender Fernando Hierro lasted 10 months in the post of sporting director before quitting in May, frustrated by the remoteness of the owners.
So now it's left to Pellegrini, once heavily linked with Liverpool, to rally the troops. The beginning of the season has been a relief for the experienced Chilean after such a summer of uncertainty.
Whatever the 58-year-old ex-Real Madrid coach has been doing with the players left at his disposal, it's worked. Saturday 1-1 draw against Mallorca left Malaga with a creditable four points from their opening two La Liga matches.
Yet it was in the Champions League last week that Pellegrini's players really took the chance to shine. They swept Panathinaikos aside 2-0 - recovering from their own financial meltdown under a recently launched AFC Wimbledon-style ownership model.
It was the fans' chance to make themselves heard too. La Rosaleda was sold out as the passionate locals showed their pride in representing Andalucia in Europe, after years of watching Sevilla and Betis do the same.
They are proud of their home-grown players in Malaga, and stylish midfielder Isco was the star of a bright performance. The 20-year-old was born just a few miles from La Rosaleda, and laid on the crucial second goal for Eliseu.
There are signs of hope elsewhere in the team. Fabrice Olinga, 16, led the line against Panathinaikos, days after becoming the youngest La Liga scorer against Celta Vigo.
Pellegrini still has experience at his disposal too. Former Bayern defender Martin Demichelis scored the first against the Greeks. France midfielder Jeremy Toulalan was outstanding and eager to stay, having rebuffed tentative interest from Newcastle.
On a January visit to Malaga's derby with Sevilla, I was in a Pellegrini media conference when the coach could barely contain his frustration at his side's attitude over the season.
His team had "given the impression of a team that lacks cohesion and that we haven't had the spirit to get results" too often, he told us. In that January derby, they responded with a gutsy performance and a win that got them moving back in the right direction.
Amid the chaos, Malaga's players have shown more of that fight since.
And their fans hope it will be enough to get them into the promised land of the Champions League group phase.