Scotland boss Craig Levein maintains Steven Fletcher stance
Last updated on .From the section Football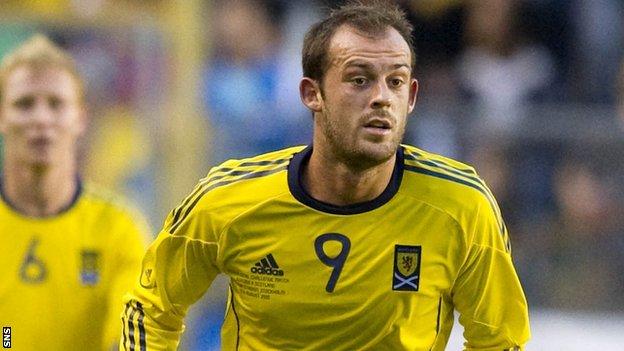 Scotland manager Craig Levein has insisted he has had no change of position over striker Steven Fletcher's absence from the national side.
The striker informed Levein he did not wish to be selected for the team ahead of a match in 2011 by text message.
And Levein maintains that Fletcher will not be selected while he is manager.
"I decided going into this campaign I wanted guys with me who 100% wanted to play for Scotland," he told BBC Scotland's Sportsound.
"It had been a year that the door had been open.
"At the time I made the comparison between Steven Fletcher and Darren Fletcher, one who would do anything he could to play for his country and one who didn't bother lifting the phone."
Fletcher, who is set to complete a £12m move to Sunderland from Wolves, sent the text message ahead of the Carling Nations Cup match against Northern Ireland.
He had previously criticised Levein for not playing him in Euro 2012 qualifiers against Czech Republic and Spain.
Levein also questioned the transfer fee being paid, not just for Fletcher, but players in the English Premier League generally.
"There aren't that many strikers going about, so it's a seller's market," he said.
"In this country, at this minute in time, it's a seller's market for just about nothing at all, other than selling footballers.
"We can argue all day long if he's worth that sort of money, it just seems quite obscene, but that's the going rate - that's the figure that people are paying for strikers."