Arsenal selling Van Persie & Song was 'a big mistake', says Eduardo

By David Ornstein
BBC Sport
Last updated on .From the section Football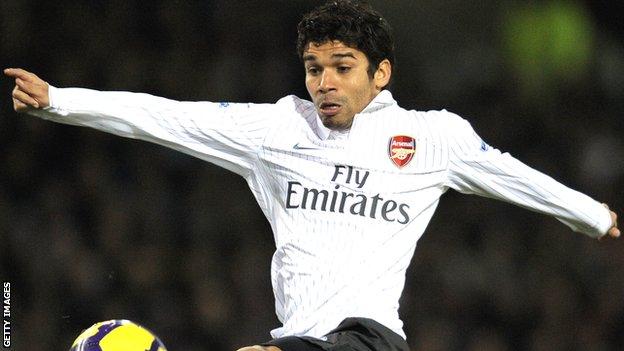 Arsenal have made a "big mistake" by selling Robin van Persie and Alex Song but still have the quality to challenge for silverware this season, according to former Gunners striker Eduardo.
Van Persie and Song are the latest high-profile names to leave the club, whose last trophy was the 2005 FA Cup.
"It's a big mistake to sell them - they were the most important players last season," Eduardo, 29, told BBC Sport.
"But they have other quality players to stay as a big club at the top."
The departures of and came a year after Arsenal lost and
Fabregas and Van Persie were both captaining the side when they left, while Nasri and Song were regulars in midfield.
"Every player comes to Arsenal as a simple player and Arsenal make them into a big player," said Eduardo, who joined Arsenal from Dinamo Zagreb in 2007 and was sold to Shakhtar Donetsk in 2010.
"But they can't keep everyone together to fight for titles. Every year it's similar - they lose players, buy players, make them class players and the next year they sell again. They are always in the same place."
Arsenal finished third in the Premier League last season, 19 points adrift of both champions City and runners-up United.
Van Persie scored 37 league goals and contributed 13 assists - the latter bettered at Arsenal only by Song on 16 assists.
Arsenal, who have signed forward striker and midfielder started the new campaign with a goalless draw at home to Sunderland.
"Van Persie and Song were the key players last season," Eduardo continued. "They held the team. When you lose two players like that, your chance of finishing in the top four is less.
"But Arsenal still have a good team and I'm confident they will do well. Last year when they lost Nasri and Fabregas, everyone thought they would not finish in the top four but they did.
"When the season finishes, we'll see if it was a mistake or not. It's very sad to lose two big players like that but we must respect the new players and believe they can keep Arsenal at the top."
Eduardo has two years left on his contract with Ukrainian champions Shakhtar and is unaware of reported interest from Fulham.
But he would like to return to the Premier League at some point and feels Arsenal are currently in need of a player with his attributes.
"It would be nice if they wanted me to join again, but it's not the kind of thing I'm thinking about," added Eduardo, scorer of 22 goals in 67 games of an Arsenal career hampered by a broken leg.
"If I played for Arsenal now I could score some important goals from nothing - in games like Sunderland, when it's 0-0 and you score the only goal. My studying of the game is like that.
"I can give you a lot of important points. I think Arsenal are missing some players like that. You never know.
"When you've played in the Premier League, you sometimes miss the atmosphere in the stadiums and the playing style. I miss this and hope one day I will come back."