Tackling the big issues in the Football League

By Paul Fletcher
BBC Sport
Last updated on .From the section Football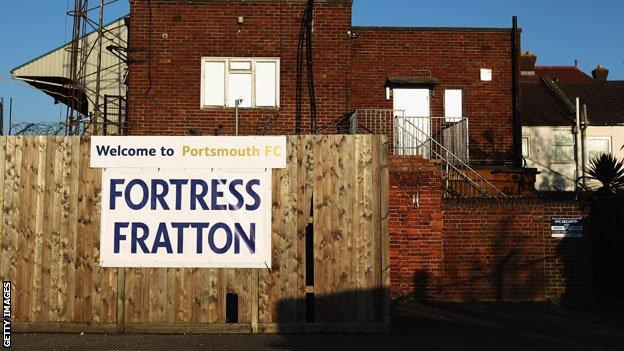 The new Football League season kicked off against a backdrop of financial uncertainty at League One club Portsmouth, who are still fighting for their survival, an overhaul of the youth system and new initiatives aimed at improving the game.
Pompey manager Michael Appleton had to field 11 debutants in his side's 1-1 draw against Bournemouth as the club's disastrous off-field problems continue to impact hard.
The Football League has acted accordingly to try to stop others suffering a similar fate, but these are tough times for the lower leagues as clubs work furiously to balance their books while also trying to produce the quality young players who will ensure their long-term prosperity on and off the football pitch.
"We are on a journey to put the game in a good place," said Football League chairman Greg Clarke.
"There is a balanced scorecard of things that we have got to get right, so that when we hand over our clubs to the next generation of fans they are in good shape, getting better and not decaying."
Balancing the books
Football regulation rarely makes for interesting conversation on a night out, but towards the end of last season something of great significance took place.
Football League clubs voted in favour of introducing regulations to control spending in an attempt to try to reduce the mounting debts that led to clubs such as Plymouth and Portsmouth facing extinction.
The current campaign is the first since the introduction of Financial Fair Play - and Clarke is in no doubt about its importance.
"Every now and again there is a seminal event in English football," Clarke told BBC Sport. "The last one of this scale was the formation of the Premier League.
"I think FFP will underpin the success, prosperity and financial sustainability of the Football League for the next 20 years."
There is a system in place in League One and League Two that limits a club's spending on player wages as a percentage of its turnover. This has been set at 65% in the third tier and 55% in the bottom division. Clubs breaching this threshold will face a transfer embargo.
Sanctions in the Championship will not take effect until the 2014-15 season but the current campaign is the first when clubs have had to file forecasts as they start to reduce their spending. By the 2015-16 season, losses can be no more than £5m, with a maximum of £3m funded by shareholders. Clubs not meeting the detailed criteria face a transfer embargo or, if they have been promoted to the Premier League, a fine.
Clarke is in no doubt that if current spending trends continue we will see clubs go bust and disappear. But he believes the new regulations can prevent this from happening.
Investing in youth
This season is the first since the radical and controversial overhaul of the youth development system in the Premier League and Football League.
The Elite Player Performance Plan (EPPP) is a Premier League initiative aimed at ensuring the best young players have more contact time with the best coaches.
Academies will be broken down into four categories, while there is a new fixed set of fees to replace the previous tribunal system for the movement of young players.
The new system involves larger payments to Football League clubs for youth development, but there is widespread concern it will lead to the best young talent gravitating towards top-flight clubs.
"There are some issues within it but any major new ambitious programme will have nuances that need to be addressed," said Clarke.
"I'm a big fan of EPPP. Clubs will be investing in the next generation of players to make sure they have world-class skills so they can compete against the Hollands and Spains of this world. This is a major step on that route."
Bothered about behaviour
It would be fair to say that some people were caught slightly off guard at the Football League's end-of-season meeting in May when Exeter chairman Edward Chorlton stood up and suggested an initiative aimed at improving sportsmanship.
Nonetheless, the 72 clubs agreed it would be a good idea to instruct their managers and players to stray away from abusive behaviour, faking injury and other unsavoury behaviour.
Referees have also been told to clamp down on players stealing ground at throw-ins and obstructing opponents from taking free-kicks quickly.
Many of the people impressed by the behaviour and attitude of Great Britain's competitors at the Olympics might support the initiative, but does it lack the kind of solid regulation that will ensure it works?
"Everybody wants less gamesmanship, the problem is that managers and players are under so much pressure to deliver results they will sometimes stray off the straight and narrow," said Clarke.
"They are not bad people but under immense pressure. What we are trying to do is encourage them to behave well rather than wave a big stick as the first method.
"But if we have to work with other stakeholders - such as the Premier League, Football Association and the Professional Footballers' Association - to make it work then that is what we will do."
Embracing technology
The Football League is keen to see itself as an innovative governing body - it led the way with the release of fees paid to agents, discussed the idea of a return of artificial pitches and, through FFP, is trying to sort out clubs' finances.
However, before they can introduce goal-line technology, the Football League needs to find a way of bringing down the costs, which are thought to be on the wrong side of £150,000 per club.
"The appetite is there but we don't want to sign up for a big bill before we know how to pay it," said Clarke.
"We are very interested in it but also interested in not having to pay hundreds of thousands of pounds for it. Most of our clubs cannot afford that. We are looking at innovative ways of meeting that cost, maybe getting a sponsorship deal."
Don't be surprised if we see goal-line technology tested in some form at Football League level this season. Ideally, the League would like to find a way of making it affordable to all clubs but does not rule out the idea of rolling it out on a divisional basis.