Pompey Supporters Trust emerges as frontrunner to save club
Last updated on .From the section Football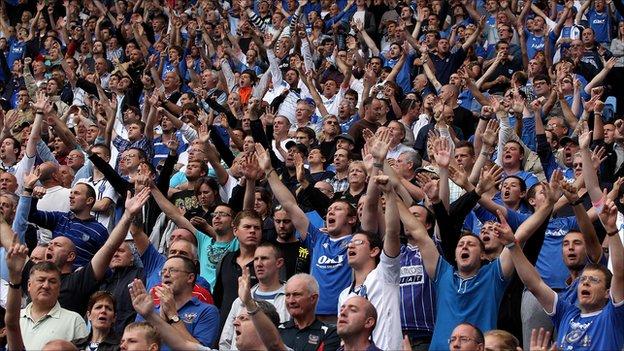 The Pompey Supporters Trust has emerged as the frontrunner to save Portsmouth from liquidation following Balram Chainrai's decision to withdraw his offer on Wednesday.
Chainrai had been administrator Trevor Birch's preferred bidder, but with the Hong Kong businessman now out of the running the PST is in pole position.
"It is a challenge, but one we are relishing at the Trust," PST spokesman Colin Farmery told BBC Radio Solent.
Pompey are currently in administration.
They will also start the new season on minus 10 points. However, there is a danger that if Birch cannot strike a deal with Chainrai and the PST then the club could be liquidated.
Chainrai is owed £17m by the club and holds Fratton Park as security but the PST has offered him £2.75m to relinquish his hold on Pompey.
Birch will meet with both parties in the coming deal to resolve the issue, leaving the PST to complete its takeover of the club.
The PST has already agreed a deal with non-secured creditors to pay them two pence in the pound.
If it can agree a deal with Chainrai then the Trust will be the frontrunner to save Pompey.
And Farmery says the PST is ready to act and has urged fans who have pledged money to the bid to prepare to donate the full amount - in most cases £1,000.
"We've always regarded ourselves as an alternative bid to Portpin rather than a rival," added Farmery.
"What we're trying to do is different to Portpin, from our perspective if they have pulled out then we see ourselves in pole position now.
"The biggest enemy we have at the moment is time. We have a game coming up against Bournemouth.
"It's the first league game of the season and we have no senior professional on the books so we would hope to find an interim solution.
"The important thing to understand is what we are trying to do at the PST. We are attempting to create a community club that is sustainable for future generations.
"There is a lot of hard work, those fans who have made pledges need to now open their wallets as we need to call in that money."
Farmery added: "It's going to be an interesting few days and we are looking forward to meeting with Trevor Birch in the coming days.
"Mr Chainrai has gone on the record to say he will not allow Portsmouth Football Club to be liquidated so we welcome that at the PST and hopefully we can hold him to his word."
The PST recently received a £1.45m loan from Portsmouth City Council to help with its offer to Chainrai while it says it have £2m in pledges from fans and £1m from associated directors and high net worth individuals.
"We are ready, we have a fully funded and costed bid," he said.
"Our bid is ready to roll and we are still looking for new pledges.
"Portsmouth Football Club needs a new owner, Portpin have pulled out of the running. That only leaves the Trust or liquidation as the two options.
"It is a challenge, but a challenge we are relishing at the Trust."
Pompey played their first game of the season on Tuesday, with a non-contract goalkeeper, assistant manager and their youth team losing 3-0 to Plymouth.