Robin van Persie can give Manchester United new hope
Last updated on .From the section Football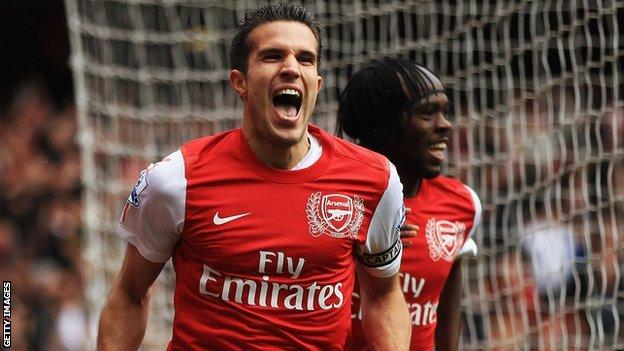 In the end it took just one goal to make Manchester City champions last season for the first time in 44 years.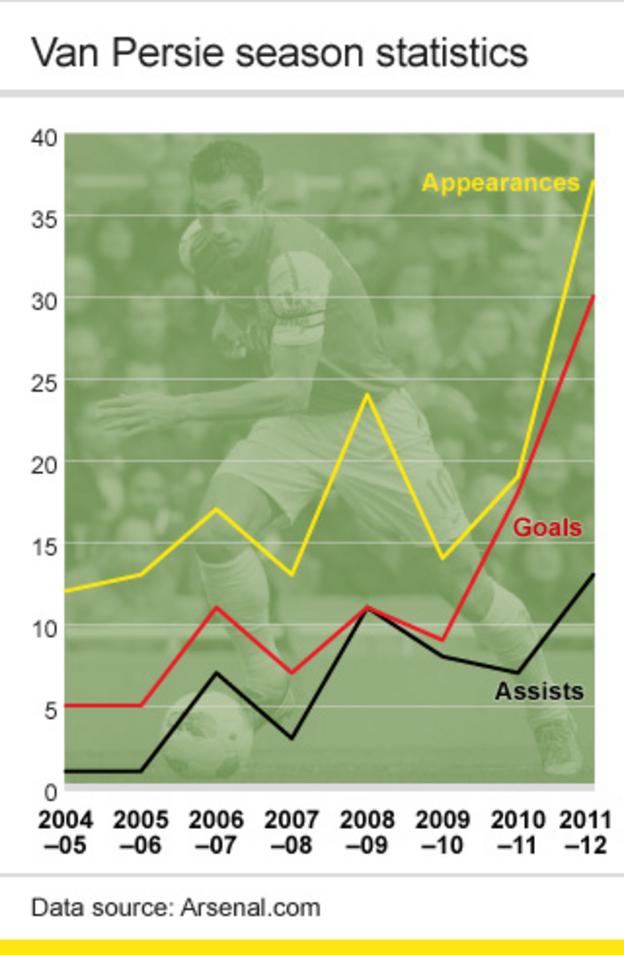 It wasn't a situation Sir Alex Ferguson was prepared to let slide. The United manager immediately set his sights on the Premier League's top scorer, Robin van Persie. Not only to add potency and pace to United's forward line, but to show he simply wouldn't allow City to have everything their own way, on or off the pitch.
"In recent years if City have wanted someone they've got him," United legend Gary Pallister told BBC Sport.
"The move for Robin van Persie shows not only can United still compete with City's vast wealth, but they can attract players away from City because of everything the club and the manager stands for.
"Van Persie wanted a club with tradition and heritage. United will always have the edge over City when it comes to that and this is the kind of signing that could send a message out and a player who will excite the fans."
Van Persie is a romantic and sees United as a club of history and tradition, similar to Arsenal and his original team, Feyenoord. The Dutchman has told friends he is flattered that Ferguson has coveted him for so long and likes the thought of working for the 70-year-old.
The thought of working alongside Wayne Rooney, the league's second top scorer last season, was also a factor. As strike partnerships go, Rooney and Van Persie sounds like something straight out of a 15-year-old's fantasy league team. On paper this is a pairing that has a cocktail of pace, trickery, finishing ability and imagination.
Van Persie is more than simply a goalscorer. Since August 2008, he has provided more assists than any other player in the Premier League.
"It really would be a mouth-watering combination," former United captain Steve Bruce added.
"Van Persie played on his own last season. He played virtually as a lone striker, if he did that at Old Trafford it would allow Wayne to drift off him and take up that position he takes up in the hole. It could be fantastic and not something any defence will want to cope with."
Last season, Ferguson opted for variations of a 4-4-1-1 formation with Rooney shouldering much of the goal-scoring burden. Whereas City had three strikers chip in with more than 12 Premier League goals (Sergio Aguero, Mario Balotelli and Edin Dzeko). United had just one - Rooney.
"Signing a player with the quality of Van Persie can only improve your attacking threat," Pallister added.
"From a defensive point of view, having to contend with Rooney and Van Persie is the kind of thing that will give centre-halves nightmares.
"Both are top-class players, both have done it at the very-highest level and as a pair, they have also the makings of a terrific partnership.
"Van Persie is right out of the top drawer so whether he is playing alongside Rooney, [Danny] Welbeck or Chicharito [Javier Hernandez], he will find a way of making that work, of improving the side and of making United more dangerous going forward."
The flexibility the partnership would afford Ferguson is part of the attraction. Both Rooney and Van Persie can play the lone striker role, but both are equally comfortable playing off another, dropping deep to create as well as finish.
In recent times, Ferguson has stuck rigidly to buying players with youth on their side, players with a resale value. The only recent exception to that was the £30.75m spent on Dimitar Berbatov. Van Persie has just turned 29 but there is a sense on this occasion that United cannot afford to wait.
"The disappointment of what happened will still be felt at Old Trafford," Pallister added.
"Pipping City to a player with the quality of Van Persie sends a signal, a message. It is going to be a fascinating season and I fully expect City and United to be battling it out at the top of the table."
If the title race is as close this season as it was last, one goal may be all that separates the sides.
Van Persie could yet prove the difference.