Rangers: Sir David Murray denies contract 'cheating'
Last updated on .From the section Football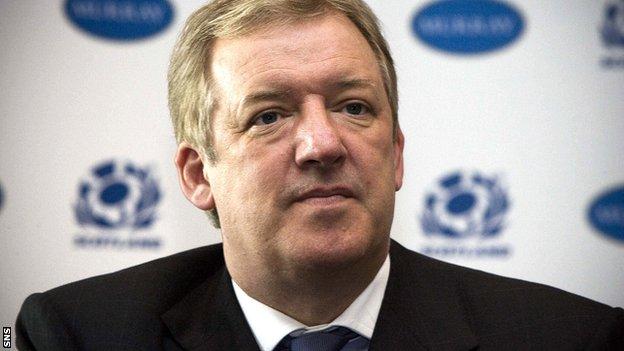 Former Rangers owner Sir David Murray has denied any cheating took place during his stewardship of the club.
And Sir David is accusing the SPL of attempting to "retrospectively rewrite laws to incorporate items not previously covered".
Rangers manager Ally McCoist has added that any probe into hidden contracts is "probably a waste of time".
The commission will determine whether the Ibrox club breached SPL rules in relation to its employee benefit trust (EBT) payments and financial arrangements for players between 2001 and 2010.
HMRC claims that Rangers' EBT scheme was a tax scam as it was contractual, which forms the basis of the so-called "Big Tax Case" - the First Tier Tax Tribunal at the Court of Session in Edinburgh, which has yet to issue a ruling.
And BBC Scotland has seen evidence, which was submitted to the courts, suggesting that 53 Rangers players and staff had side-letters giving undertakings to fund their sub-trusts with cash.
Scottish Football Association rules state that all payments made to players in respect of their earnings from football must be declared by their club.
If found guilty of breaching the SFA's and the SPL's rules, one possible sanction is the stripping of league titles won during the period under investigation, a punishment the club have said they would strenuously challenge.
"During my stewardship of Rangers no rules were breached or circumvented and I reject and resent any suggestion that anything was done which amounted to cheating," said Sir David via a statement.
"I cannot be anything other than angered at the suggestion Rangers should be stripped of titles or other competition victories.
"This suggestion is an insult to the staff and players who achieved these successes thanks to skill, hard work and commitment.
"It would appear that the SPL is once again seeking to invest itself with a power of retrospective penalty beyond that prescribed in its own rules.
"All accounts were fully audited and made available to all entitled parties. All football rules were complied with. All enquiries from entitled parties or organisations were answered.
"SPL rules variously required disclosure of all contract of service matters and all payments from a club to a player.
"It would now appear that these are to be rewritten to incorporate non-contractual loans from independent third parties and other non-contractual matters.
"If this is the case then press comment over the past few years would appear to indicate that several clubs other than Rangers may well have fallen foul of the soon to be changed historic laws.
"For the avoidance of doubt, many thousands of employees in many areas of business and commerce have benefited from EBTs.
"Rangers sought only to provide financial security for staff within the rules of law and football. To suggest that this amounted to cheating in the sporting context is an allegation which is without any foundation."
Sir David received more than a dozen payments from the trust over nine years totalling £6.374m, including the single biggest payment over the life of the scheme - £1m.
McCoist had previously said Rangers would "never accept" being stripped of any of their titles when the now relaunched club were negotiating their membership of the Scottish FA.
And the manager is confident that the club's previous regime will have no case to answer.
"I'm under the impression that there's absolutely no dual contracts, so therefore I've been told that it's probably a complete waste of time," he said.
"But if people in places see it fit to pursue this, that's up to them."
Former Rangers manager Alex McLeish, who won seven major honours in his five years in charge at Ibrox, described the notion of removing titles as a "non-starter" and insisted that his own contract at the club was above board.
BBC Scotland published information identifying McLeish as one of the beneficiaries of the EBT scheme, earning £1.7m from 2001-2006 with evidence of a side-contract.
"The stripping of titles is a non-starter," said McLeish. "I know it's been mooted, but personally, I don't think that it should go against Rangers.
"I was at the club at the time and had lawyers who looked at the contracts and everything was okayed. It's not something I'm particularly comfortable about discussing.
"There was no cloak and dagger stuff. My lawyer looked at it and it was the type of contract that you know that going to a club like Rangers or Celtic, you would be expecting.
"I reduced the wages by half, so I'm not guilty of bringing any players in at top prices. It was in my era at Rangers it was about the opposite - I was working with the club to reduce the costs and wages and at the same time keeping the competitive edge, which we did."