Liverpool: Brendan Rodgers faces daunting task as new era begins
Last updated on .From the section Football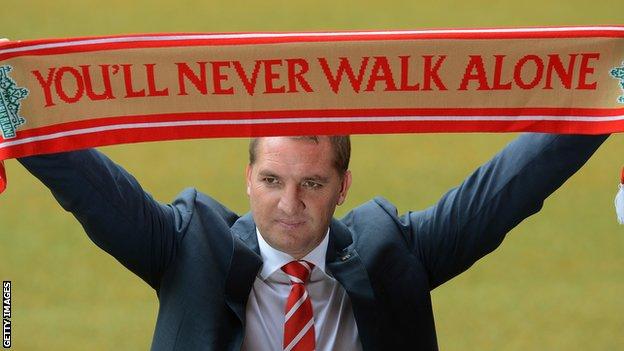 Brendan Rodgers had been Liverpool manager for little more than a month when he first decided to leave the anonymity of his car for a "walk about" in the city.
The man from Carnlough, on the Antrim coast, was swamped. It took him the next 45 minutes to walk 30 yards back to his hotel.
If the 39-year-old's arrival at Anfield was met with an initial air of scepticism, that has given way to a quiet sense of optimism, of hope.
Rodgers represents a clean slate, a new start, a fresh chapter in Liverpool's inescapable history. On the wall of Rodgers's office at Liverpool's Melwood training ground, above his widescreen computer and a colour-coded desk filing system, hang black and white images of Bill Shankly, Bob Paisley and the great sides of yesteryear.
The past is always on your shoulder at Anfield, a reminder of what has gone before and the expectation of what will come again, but the man from Northern Ireland is well-versed in that heritage.
"It has been a smooth transition and that is down to the people at the football club and the people of this great city," he told BBC Sport.
"You have to have a sense of the past, a sense of the present and a sense of the future. I'll do whatever it takes to make Liverpool successful, my life is devoted. The people have been great. I live my life for football and the passion around this city is incredible."
Rodgers has been a breath of fresh air since he breezed into the club and spoke his first words as Liverpool manager on 1 June.
There have been the casual and complimentary references to Kenny Dalglish, the recalling of childhood memories when he watched the great sides of the 1970s and 1980s with his Liverpool-supporting father and grandfather and clear links between his own footballing principles and those of the club's great managers.
The question now is can Rodgers walk the walk?
"I'm under no illusion, there's a lot to be done," he said. "You can't hide away from the nuts and bolts, which is about hard work and honesty. It will take a wee bit of time to get it how we want it.
"I know where we want to end up. The energy we can draw from the unity between the players, the club and the supporters is the key. Together we can go far."
But the scale of the task is daunting. Liverpool have not finished in the top five of the Premier League since Rafael Benitez's side came within four points of the title in May 2009. Last season, the club finished 37 points behind champions Manchester City, 17 points outside the top four.
"I'm here to make this club competitive again," Rodgers said. "The last three years we've finished seventh, sixth and eighth. This is a massive job."
The former Swansea manager sees parallels with his previous job and believes minor tweaks, rather than a major overhaul, can transform the club's fortunes.
"When I arrived at Swansea they'd only scored 40 goals in the previous season, one of the lowest in any league," Rodgers said.
"With a slight structural change, a more offensive game and a few new players, it totally changed our fortunes.
"Sometimes it is just a little change, working on people's minds, giving them confidence and the belief that wherever we go in the world, we are good enough to win the game."
Now he must lift a squad short of confidence, short on depth and short on talent, by Rodgers's own admission.
"You've got some of the world's best supporters here and the playing group is not quite at that level yet," he said.
He has already begun to impose his distinctly Spanish vision on the squad. His Liverpool team will press to win the ball high up the field and aim to retain it so relentlessly that the opposition feel it is "the longest 90 minutes of their life".
In pre-season the squad have been challenged to win the ball back within seven seconds of losing it.
His 4-3-3 will take time to bed in though. Much will depend on the impact made by new signing Fabio Borini. Last season the then Roma forward averaged a goal every 194 minutes, compared to one every 232 minutes for Luis Suarez and one every 516 minutes for Andy Carroll.
Liverpool's problem last season was wastefulness in front of goal, so Rodgers must find a solution, and better still, some luck.
His style will inevitably bring more fluidity to the midfield and, with that, much-needed width. Swansea's wide forwards stretched teams by maintaining width, in turn allowing the likes of Joe Allen more time and space to pull the strings in midfield. His arrival at Anfield was inevitable, he will be a vital cog in the midfield machine.
"When people look at teams like Spain they just see this great flowing team," Rodgers added. "There is lots of teaching, lots of hard work, many hours on the training ground to get there. There is a lot of courage by the players and a lot of bravery.
"There are many things that make you play with that fluidity, to be that effective. That is going to take time but when you have the ball up to 60 or 70% of possession, you have to be in condition because you're pressing at every opportunity and resting with the ball.
"I like my team to dominate and control the opponent but in order to do that you need to have the ball. When you don't have it, you are working very, very hard and very quickly in short spaces to get the ball back. When we haven't got the ball I want to see that hunger to get it back."
The first five weeks will test Rodgers and his squad to the limit. The futures of Andy Carroll and Daniel Agger remain unclear and home matches against Manchester City, Arsenal and Manchester United will provide the sternest of tests.
But, according to the Liverpool manager, those are challenges that should be welcomed, rather than feared. "It is a magnificent opportunity," he said. "It's something I'm really looking forward to.
"You have to play every team, whether that is at the beginning, the middle or the end. What we have is a great opportunity to really get the vibrancy back into Anfield. Sometimes that takes the big games.
"Every game is going to be vital, home and away, and there is no better way to start than the big games that we have. We will be on fire by then."
A top-four finish is the target, but Liverpool fans want to see improvement and progress. More than anything they want to be given hope.
The time for talking is over.