Gareth Southgate to leave FA development post
Last updated on .From the section Football37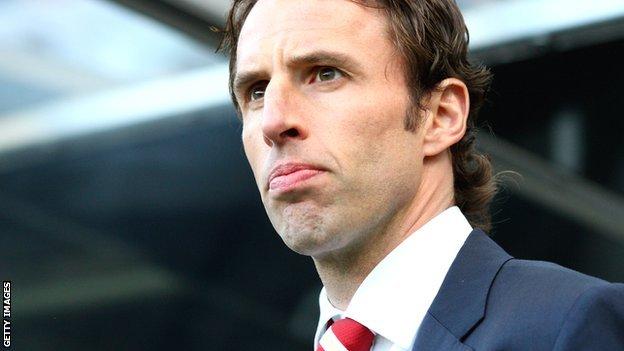 Gareth Southgate is to leave his role as the Football Association's head of elite development.
The former England international also says he does not wish to be considered for the new post of technical director.
Southgate, 41, had proposed changes to youth football and played a key part in developing plans for the national training base at St George's Park.
No reason was given for the departure of the former Middlesbrough manager, who joined the FA 18 months ago.
Southgate, who is to continue as a pundit with ITV next season, said: "I'd like to place on record just how much I've enjoyed working at the FA over the past 18 months. It really has been an honour and a pleasure."
He was tasked with helping to bring through better players and coaches to aid the England national team and played a leading role in drafting changes to youth football, with smaller pitches, goals and team sizes recommended.
Under the proposals, which go before FA shareholders in September, children would not be allowed to play 11-a-side games until under-13 level.
Southgate was also responsible for maintaining closer contact with the Premier League and Football League, and playing an active role in the development of the new FA coaching centre at St George's Park in Burton.
"Hopefully, I have been able to play some part in delivering important changes to the way children play at the youngest levels. It has also been a tremendous experience to work on the delivery of St George's Park," he said.
"The FA is heading in the right direction in terms of developing more, better coaches and players at all levels of the game under the leadership of David Bernstein, Alex Horne and Sir Trevor Brooking. I would like to thank them for their support throughout my time with the organisation.
"I've advised the FA that I will be pleased to help with specific projects moving forward."
The FA announced in March it would be recruiting a technical director to help raise the standards of both the professional and grassroots game in England.
FA general secretary Horne praised Southgate's "outstanding contribution" during his time with the organisation.
"We're disappointed, but understand his decision and would like to thank Gareth for his efforts and wish him well for the future," said Horne.
"We continue to recruit for key technical positions within the FA at what is a very important and exciting time for the organisation, with the imminent opening of our new training centre at St George's Park."