Jersey FA: Phil Austin becomes new president
Last updated on .From the section Football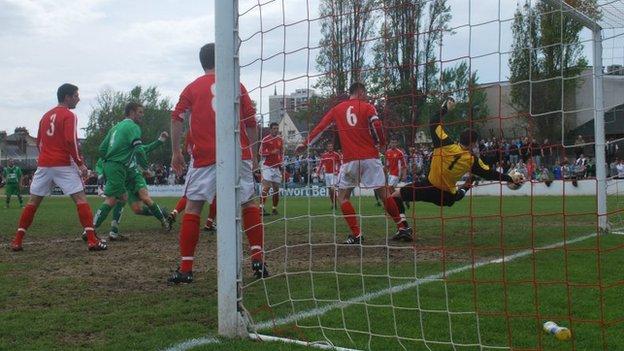 The head of the organising committee for the 2015 Island Games has been confirmed as the new president of the Jersey Football Association.
Phil Austin takes over from Ricky Weir who has stepped down after six years in the role.
Austin was unopposed for the position at the Jersey FA Annual General Meeting after being nominated by the outgoing Weir as his successor.
"I'm really looking forward to getting involved," he told BBC Radio Jersey.
"I think I've got a steep learning curve and clearly there are some challenges ahead for football.
"The obvious ones being funding and also getting a meaningful and challenging programme for all the representative sides.
"I think the infrastructure in football is fantastic and we've probably got to just tweak the end product a little bit."
As well as chairing the 2015 Island Games organising committee, Austin was also part of the team that successfully bid for the 1997 Games.
He was also involved in the 1999 working party looking at the future of football in the island.
"I think Ricky [Weir] has put a great committee in place and all the infrastructure is there," he added.
"He's done a great job over six years, I can understand why he wanted to step down and he was very persuasive in getting me to come and follow him.
"I'm now really keen to get on with it."
Austin's appointment comes at a time of big change at the top of the Jersey FA. At the end of last season David Brookland took over from Paul Creeden as the new chief executive.