Swindon Town turn down new bid for Matt Ritchie
Last updated on .From the section Football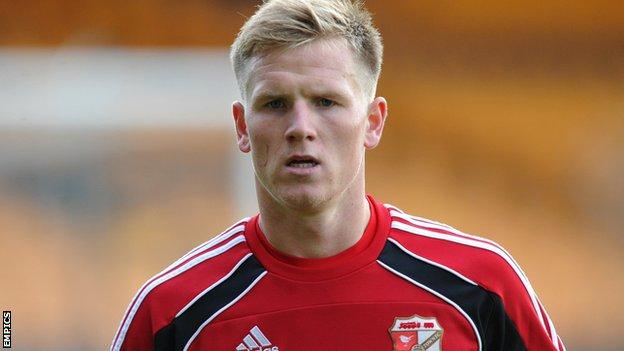 Manager Paolo Di Canio says Swindon have turned down a £900,000 offer from a rival League One club for one of his players, believed to be Matt Ritchie.
Although Di Canio refused to name the parties involved in the new approach, he told BBC Wiltshire: "I denied it straight away and said 'No'."
"£900,000 is not a crazy offer for a League One side, especially for Swindon that has no financial problems."
He continued: "Even if they offered me two League One players and some money I would say no, because this player is crucial for me.
"I think it's better to have this player than two players plus some money. Maybe it would be a larger squad but not the quality like the player I've got."
Former Portsmouth trainee Ritchie scored 11 goals in 52 games for champions Swindon last season and his performances earned him the League Two player of the year award.
Swindon immediately rebuffed Bournemouth's £400,000 offer for Ritchie, and Di Canio insisted the sought-after winger was worth £2m.
The Italian reiterated that only substantial offers would tempt him to sell his best players.
"Maybe I'm crazy because I think some of my players cost £2.5m or £3m, when someone maybe would pay £100,000," he added.
"It's not for us because we don't have a problem, we keep the best players.
"If they come with £2.5m maybe I would say yes because I already have some targets that give us the opportunity to be a top League One team on paper."