Price may prise Joe Allen from Swansea, says Ian Walsh
Last updated on .From the section Football8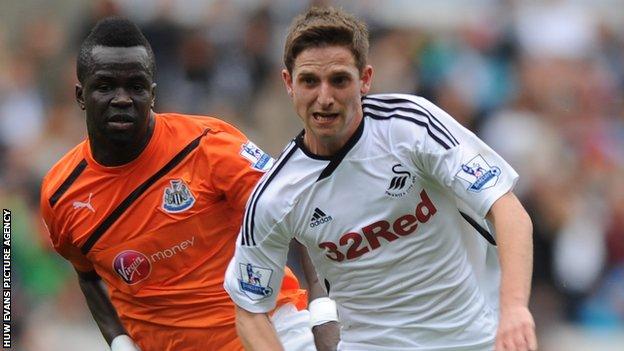 Ex-Wales striker Ian Walsh says Swansea could be forced to let midfielder Joe Allen leave for Liverpool.
Allen has been linked with joining former boss Brendan Rodgers at Anfield.
BBC pundit Walsh says the Swans could expect £8m-10m compensation for Allen.
"It's quite unfortunate, but the reality of the world these days, if there's a fee that Swansea can't turn down and they can bolster the squad in two or three other areas, then they will take it," said Walsh.
"You can't hold a player like Joe Allen at Swansea when the likes of Liverpool come knocking on the door."
As part of the compensation package that saw Rodgers released from his contract to join Liverpool in May, Swansea insisted on a "player protection" clause that prevents the Anfield club from bidding for any of their players for the next 12 months.
However, if Swansea accept a bid from any other club for a particular player, then Liverpool can express their interest.
The strength of the written agreement with Liverpool would also be tested if a Swansea player handed in a transfer request.
Walsh believes Team GB Olympic squad member Allen's west Wales roots would leave the player with a dilemma if a serious bid is made for him.
But Walsh also believes that if Allen impresses at the 2012 Games, the 22-year-old's transfer stock would rise.
"It'll be a tough one," Walsh said. "Of course, Joe is the only player [born and bred] west of Swansea, born I think in Narberth and Welsh-speaking.
"So he'll have a big affinity to Swansea City and he will be torn between staying and going.
"I would say [he would fetch] £8m-£10m, possibly… but remember, he's only played one season at the highest level.
"He's had a fantastic season. He's part of the Olympic squad so his value will be growing and if he has a good championship in the Olympics then who's to say that value could go up?"
Swansea City boss Michael Laudrup has not ruled out selling the club's best players if the price is right.
But the Dane has said he has no intention of selling Allen.
Laudrup has already started to put his own stamp on the Swansea squad.
Defender Ben Davies, 19, has signed a new contract, while Villarreal midfielder Jonathan de Guzman has joined on a season-long loan and defender Jose Manuel Flores has been signed from Genoa for an initial £2m.