New Rangers threaten administrator with legal action

By Chris McLaughlin
Senior football reporter, BBC Scotland
Last updated on .From the section Football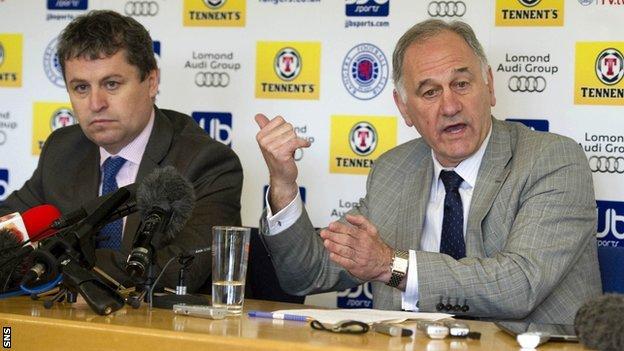 The consortium in charge of the new Rangers is threatening legal action against the administrator who sold them the old club's assets.
They claims that Duff and Phelps reneged on a deal to pay back around £500,000 put up by the consortium to help fund working capital when it agreed to buy the club back in June.
But Duff and Phelps has denied that the money should already be paid back.
It says it has a legally binding agreement that it has adhered to.
The consortium, led by former Sheffield United chief executive Charles Green, bought Rangers' assets for £5.5m after failing to prevent the club going into liquidation.
The new company was denied a place in the Scottish Premier League and the fresh dispute comes in the middle of negotiations with the Scottish Football Association for a membership that would allow the new club to start life in Division Three.
A consortium source told BBC Scotland that an agreement was in place whereby it provided the £500,000 to the administrator with the promise of most of it being returned by mid-June.
However, the consortium has yet to see any of the cash and says it is still awaiting an explanation from Duff and Phelps despite numerous calls and emails.
"Shortly before the takeover, Duff and Phelps asked us to make an additional payment of £500,000 to pay for operating costs from 1 June to 14 June," said the consortium source.
"This was on top of the original £250,000 and £5.5m.
"D&P said they expected to spend only around half of the money, that they'd give a breakdown of all that was spent and that the remainder would be returned a couple of days after the 14 June.
"All we have is an indication that most of the money has been spent, with no breakdown."
Duff and Phelps, which remains in charge of the old Rangers until it goes into liquidation, refuted the allegations.
"It was made clear to the consortium that the balance of running costs from the end of May to June the 14th would be repaid at the earliest opportunity," the adminstrator stated.
"These costs and liabilities are being finalised before the balance is being returned.
"This is happening within a perfectly normal time frame and there is absolutely nothing untoward here. There will be full transparancy on all the costs."