Fifa's new ethics committee to examine bribes payments
Last updated on .From the section Football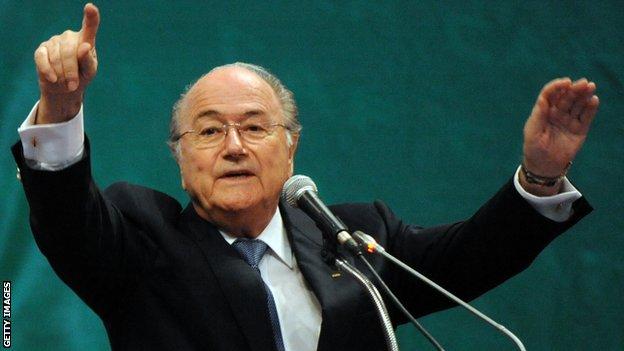 The payment of millions of pounds in bribes to two Fifa officials is to be examined by the organisation's new ethics committee.
Blatter was aware senior officials were paid millions of pounds, according to a court investigation.
"On my request, ISL file will be given to the new ethics committee," Blatter tweeted on Tuesday.
"ISL is settled legally - now it will be settled also morally."
Last week Blatter stated on Fifa's website that he knew about the payments but that they were legal at the time.
He said: "Back then, such payments could even be deducted from tax as a business expense. Today, that would be punishable under law."
Havelange was Fifa president for 24 years before being succeeded by Blatter in 1998 while Teixeira, Havelange's former son-in-law, this year resigned as head of Brazil's football federation and the 2014 World Cup organising committee.
Former United States attorney Michael J Garcia has been appointed by football's world governing body as head of the new ethics committee.