Stewart Regan has 'full support' from Scottish FA
Last updated on .From the section Football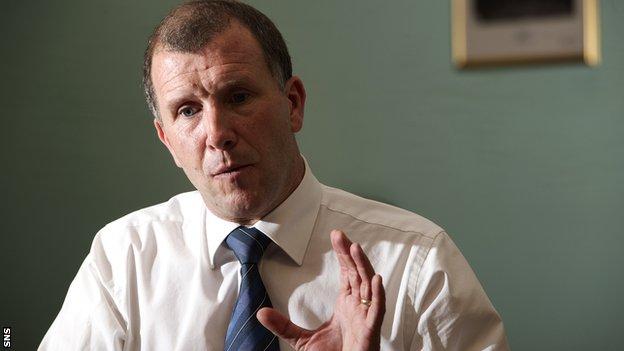 The Scottish FA are "wholly committed" to under pressure chief executive Stewart Regan.
And the governing body has vowed to support the decision to put Rangers newco in Division Three, following Regan's bid to block such a move.
"He (Regan) has led us through an unprecedented modernisation," read a statement from the SFA board.
"He has our full support to continue the excellent work undertaken so far in accomplishing our key objectives."
Regan's central role in driving forward the unsuccessful plan to "relegate Rangers" into Division One was laid bare in an email leaked at the weekend.
A vote of no confidence in Regan was proposed and seconded but not acted upon at Friday's Scottish Football League vote on Rangers.
And Dunfermline chairman John Yorkston predicts that further calls to remove Regan will receive widespread backing.
"As far as Stewart Regan goes, we'll certainly be supporting moves to get him out his job when the SFA agm (annual general meeting) comes up," Yorkston told BBC Scotland.
"I believe it will be progressed and have a lot of support."
However, the SFA's agm tends to be in June.
Regan's warned of a "slow, lingering death" for football if the Ibrox newco were not admitted to Division One.
He also advocated Dundee as the replacement for Rangers in the top flight, rather than the Pars, who argued unsuccessfully that they should be reinstated after their relegation.
"I am just so disappointed with emails I've seen from Mr Regan at the SFA where, three weeks ago, they said Dundee were the team that were going up," said Yorkston.
"Why couldn't he have told us? We've still to get a team together for the start of our season and, if they made that decision three weeks ago, they should have had the decency to tell us."
Regan's SPL counterpart, Neil Doncaster, has also come in for criticism for his handling of the Rangers crisis.
But chairman Ralph Topping insists Doncaster's position "is not under review".
Doncaster has claimed the league could lose £16m a season as a result of losing the Ibrox club for at least three years, mainly from television deals.
However, his gloomy predictions could not sway SFL chairmen, many of whom complained of feeling pressurised by the SFA and SPL ahead of their ballot on Rangers.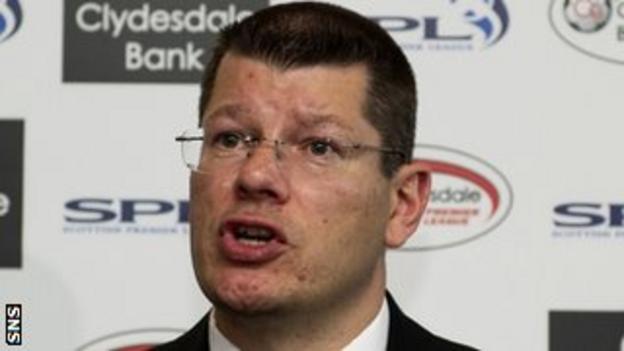 "It is up to the 12 clubs to decide my position," Doncaster told BBC Scotland when quizzed on his future.
"I'm here to promote the best interests of the SPL and the 12 clubs within it.
"That's something I am very happy doing.
"There are huge challenges ahead, that's clear, and they will keep us all busy."
Doncaster was supportive of Regan and rejected any suggestion that the game's governors had acted inappropriately.
"I think the personal criticism Stewart has received is wholly unmerited," he explained.
"It doesn't bring any credit to those who are engaging in that sort of personal criticism.
"The guy has a tough job. He has put forward his views as being what is in the best interests of the game as a whole.
"That is leadership and I don't think he should be criticised for that.
"I'd like to think that everything that the governing bodies of the game say is true and fair and, if people have suggestions that that isn't the case, they need to brave enough to say so directly.
"The reality is that the executive here at the SPL, just like the SFL, do not have a vote.
"We can lead the discussion, we can advise, but ultimately the votes on where the game will be taken are made by the clubs themselves."