FA must take decisive action over John Terry case - John Amaechi
By Alistair Magowan
BBC Sport
Last updated on .From the section Football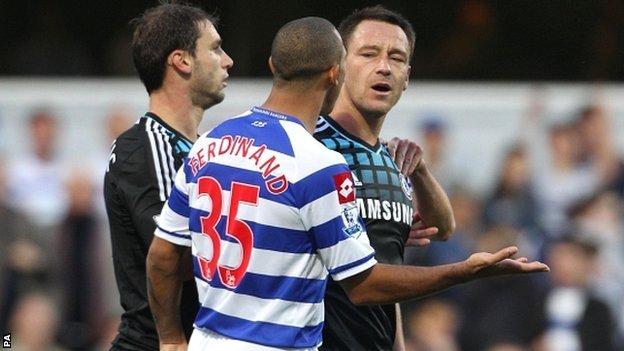 The Football Association must take "swift and decisive action" against John Terry, says anti-discrimination campaigner John Amaechi.
But the FA can sanction him because of a different burden of proof.
"The danger is black people in football will start to look more cynically on the FA and their true stance rather than their rhetoric on racism," the ex-NBA basketball player said.
"That's one of the reasons why the FA has no choice but to take swift and decisive action."
Amaechi is one of Britain's most successful basketball players after spending several years in the NBA with the Cleveland Cavaliers, the Orlando Magic and the Utah Jazz.
Now retired, he is a psychologist, charity worker and an ambassador for Amnesty on discrimination issues.
Away from the Terry case, Amaechi said he felt sport as a whole seemed to be "regressing instead of advancing" on such issues. He believes sport could actually bring about change, rather than simply putting down any problems to the wider society.
Amaechi, who was awarded an OBE for services to sport, said the Terry case could be an opportunity for officials at Wembley to set down a marker about racial discrimination in football.
"It is a point when the FA could try and make their whole organisation different or better, but I have doubts as to whether they are capable of that," he added.
"The whole thing is quite damning given that you have a man who was the captain of a national team, a man who has been steeped in their supposed anti-racism education for almost his entire career in football and yet can still fall foul of these allegations and can still have a character questionable enough that one of his peers would believe him capable of it."
The FA has already said it "will now seek to conclude its own enquiries" following the court case, which focused on the incident between Chelsea skipper Terry and QPR defender Ferdinand at Loftus Road last October.
The governing body suspended its initial investigation in November when it became apparent that the case would go to court.
In his summation of the case at Westminster Magistrates' Court last Friday, Judge Howard Riddle said that "there is no dispute that John Terry directed [racially sensitive] words in the direction of Anton Ferdinand".
But in reaching a not guilty verdict, he stated it was "possible that what was said was not intended as an insult but rather as a challenge to what he believed had been said to him".
The prosecution had to prove beyond reasonable doubt that Terry had used the words in an insulting manner, which it could not.
But the FA can seek to charge England defender Terry on the balance of probabilities.
Liverpool striker Luis Suarez received an eight-game ban and a £40,000 fine from the FA for racially abusing Manchester United's Patrice Evra last season.
Amaechi added: "I certainly think when you look at the trend within football and institutionalised sport in general, it does seem like we are regressing instead of advancing.
"There is an idea out there that football is just a part of society; that football is racist because society is racist.
"But football as an institution is powerful enough to influence society in brilliant ways and instead it seems to constantly disappoint. It's not just this incident, this is simply a culmination of a year's worth, followed by a year's worth of ridiculously shooting themselves in the foot."