Rangers: Inverness Caley Thistle still opposed to newco in SPL
Last updated on .From the section Football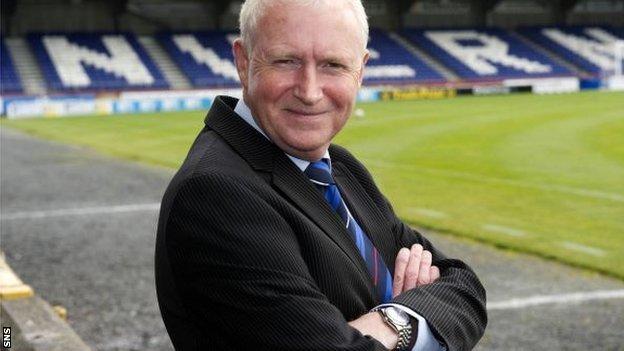 Inverness Caledonian Thistle have reiterated their opposition to the new Rangers being in Scotland top flight but vowed to campaign for an expanded Scottish Premier League.
The club had called an emergency board meeting after Friday's vote by Scottish Football League clubs to place the newco in Division Three.
Inverness chairman Kenny Cameron was critical of that decision.
But the club have decided to stand by their previous position over Rangers.
And Cameron sought to quell fears about his own club's finances after the Scottish Football Association and SPL chief executives warned of dire financial consequences of Rangers being out of the top flight for at least three seasons.
"We are one of the few clubs with no bank debt whatsoever, so our position is very far from immediately threatening, as has been alleged," he said in a club website statement.
"We look forward to the new season on the back of renewed commitment over the weekend from our major shareholders and sponsors, for which we are very grateful.
"They fully appreciate that in May we, like other clubs, set our budget for 2012-13 and now there will be real change to the commercial curve because of events outwith our control.
"We took their views on board and continue to hold the position that not allowing 'newco' Rangers into the SPL is the correct decision."
SFL clubs had been offered a working party on reorganising the league structure and a redistribution of income if they accepted a plan negotiated with the SFA and SPL - in return for Rangers being in Division One.
Cameron on Friday "a once in a lifetime opportunity to bring forward change may well have been lost" after the SFL clubs voted against that offer.
"At national level, we are optimistic that the SPL's sponsors will take due cognisance of the situation in which the SPL finds itself and will stand behind the league," he said.
"Our club has for some time been in favour of an expanded SPL and it is clear now that the reorganisation of Scottish football has to be at the top of the agenda.
"We will be supporting such reorganisation over the coming weeks and months."
Cameron agreed with warnings from Scottish Football Association Stewart Regan and his SPL counterpart, Neil Doncaster, that there would be serious financial implications of placing the new Rangers in Division Three.
"A once in a lifetime opportunity to bring forward change may well have been lost," he said on Friday.
"This could spell the end of football as we know it."