Bad language in football: Clarke Carlisle wants clampdown
Last updated on .From the section Football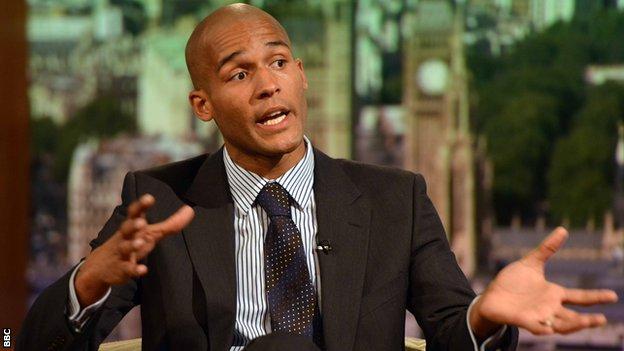 Professional Footballers' Association chairman Clarke Carlisle believes there should be a clampdown on foul and abusive language in football.
On bad language, Carlisle said: "I don't agree it should be that way.
"If players were sent off and banned because of the language, it would cause them to address their behaviour."
He added: "It would cause the clubs to clamp down on it too."
The laws of world football's governing body, Fifa, state "using offensive, insulting or abusive language and/or gestures" as a sending-off offence.
Carlisle told BBC Radio 5 live Weekend Breakfast: "In order to change it, it would take a very strong line from the referees, a very strong line from the governing bodies and it would probably cause mayhem for the short-term period.
"We do have the regulations within the game in order to stamp out any kind of foul and abusive language but they are just not enforced to the nth degree."