Dundee left 'in limbo' over league status uncertainty
Last updated on .From the section Football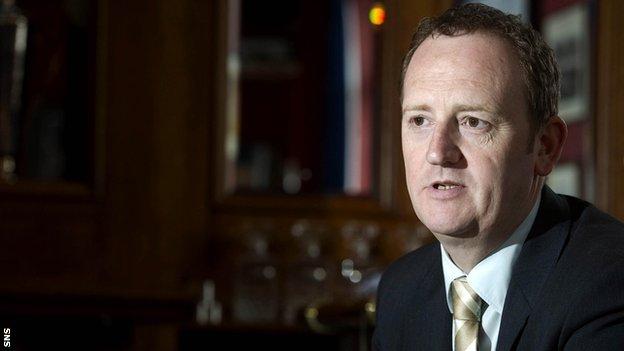 Dundee chief executive Scot Gardiner says the Dens Park club have been left "in limbo" ahead of the new season.
With no Rangers in the Scottish Premier League, last season's Division One runners-up, Dundee, have been proposed for a top flight entry.
But
Gardiner said on Sportsound: "Where are Dundee going to be playing and when are we going to be told that?"
The relaunched Rangers, who were unsuccessful in obtaining the old Ibrox club's place in the top tier, were voted into Division Three on Friday but Dundee and Dunfermline are still unsure where they will be playing.
The SPL begins on 4 August with the fixtures currently listing "Club 12" as Rangers' replacement. Division One starts on 11 August.
Top flight clubs meet for their annual meeting on Monday and Gardiner is hoping for clarity.
"I'm only hoping that we get a conclusion as quickly as possible because we find ourselves in a very difficult position," he added on BBC Radio Scotland.
"I've not spoken to [chief executive] Neil [Doncaster] or any of the board of the SPL. I haven't had any emails, I haven't had any letters.
"We have been planning to win the First Division for a couple of months and we've been adding to our squad all with a view to winning the First Division.
"But we've had to stop a lot of things behind the scenes because we could put the club in real danger if we were to take the wrong decisions; it would be very damaging for the club.
"We're in limbo and I'm just asking for someone to just step up and say, 'all the votes have been held now, here's the situation' and Dundee FC will be playing either in the SPL or in the First Division.
"I think it damages all of the game, it doesn't just damage us. I think someone has to show some real leadership here, get a grip of things and say, 'this is what's required to happen'.
"We've got a lot of hard work to get the credibility of the game back. It will only [recover] if there's honesty and integrity and it's been thin on the ground. It's going to take some brave men and women to stand up and do the right thing."