Oxford United plan to buy Kassam Stadium with London Welsh
Last updated on .From the section Football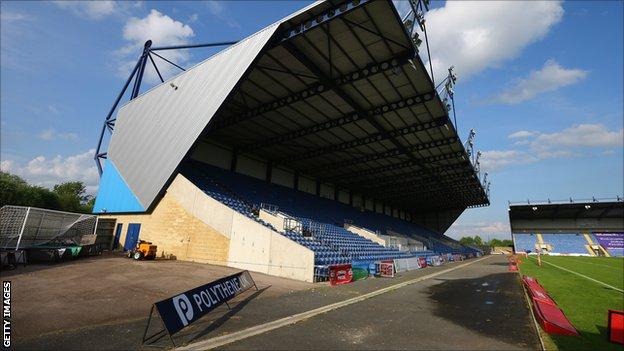 New Oxford United chairman Ian Lenagan says the club are hoping to "form a joint company" with co-tenants London Welsh to buy the Kassam Stadium.
Lenagan says the groundshare with Welsh may help fund a stadium purchase from former U's chairman Firoz Kassam.
"We want to buy the stadium, but you have to buy it at the right price and in the right circumstances," Lenagan told BBC Radio Oxford.
"The link-up with the rugby club is a positive in that respect."
London Welsh will play in Oxford next season after they secured promotion to rugby union's Premiership and needed a stadium to make the league's criteria.
Lenagan, who was already owner at Oxford, takes over as chairman from Kelvin Thomas, who had been at the helm for nearly four years.
He also owns rugby league side Wigan Warriors - who share the DW Stadium with the town's Premier League football side.
It is an experience he believes will help over the course of next season and could help in the pursuit of buying the stadium from Kassam.
"The parallel with Wigan is exactly the same. Dave Whelan owns the stadium, he is an interesting character to deal with. He can be difficult just as Mr Kassam can be difficult.
"We continue to be in conversation with Mr Kassam. We've openly been in discussion with London Welsh about forming a joint company to own the stadium and conference centre. But they have to stay up and that is not going to be easy."
Lenagan revealed he has already spent £150,000 on improving the fitness and sport science department after the injury problems that plagued them last season.
He also says U's manager Chris Wilder has been working closely with Wigan's sports science department to improve the fitness of Oxford's players.
"Kelvin, myself and Chris decided at the end of the season that we needed to be fitter and be better at injury prevention.
"We need to stop being so dependent on loan players and start developing our own academy system.
"Chris Wilder is now being led by Mark Bitcon, who is the director of sports science at Wigan and England. We believe we can improve fitness prevention by as much as 20%.
"We want to become excellent and that is the difference between getting promoted and not being promoted."
Meanwhile, Lenagan revealed that new injuries to Andy Whing and Liam Davis, as well existing ones to Michael Duberry and Peter Leven, will mean he will reluctantly have to go back into the loan market.
"I've now got to get out the chequebook, which is unfortunate, but I don't have a lot of leeway because of the salary cap," he added.
"We may have to go into the loan market, but the minimum loan spell we will accept is six months is because we want the player to buy into the new ethos at Oxford."