Oxford United chairman Kelvin Thomas to leave role
Last updated on .From the section Football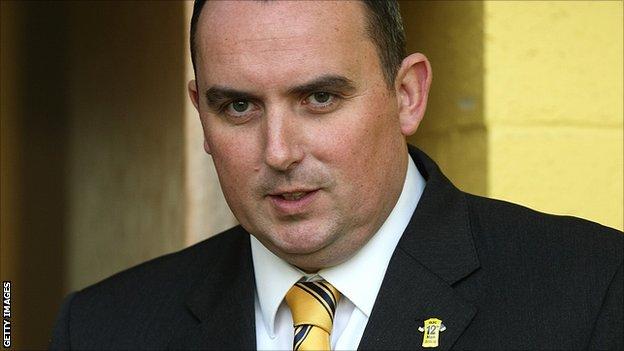 Oxford United chairman Kelvin Thomas is leaving his role at the club, and will be replaced by owner Ian Lenagan.
In December 2008, he appointed Chris Wilder as manager and since then Oxford have returned to the Football League and achieved two top-half finishes.
"There is definitely some emotion. It's one of those days where there is sadness," Thomas told BBC Radio Oxford.
The outgoing chairman has also stabilised the financial position of the club.
"Ever since the call came from Ian to help out in 2008, I feel like the club has progressed significantly and there have been some tremendous highs along the way," added Thomas.
"I feel strongly that this is the right time for me to make this decision and I am also pleased that Ian is there to step up now and lead the club going forward with me assisting him through a three-month transitional period.
"I came in to help out for three months. I was saying to my wife earlier, I feel like a bad penny sticking around but it's going to be four years by the time I go and I feel that is a good amount of time."
Previously a non-executive director, Lenagan, who will become executive chairman, is to assume responsibility for the day-to-day running of the club with immediate effect.
"I am excited about taking up the chairmanship of OUFC and look forward with interest and enthusiasm to the challenges and opportunities that lie ahead," said Lenagan.
"I have serious ambitions for Oxford United and I'm looking to step up our game across all areas. As owner and now chairman I will take direct responsibility for that.
"The aim is to leave League Two behind us.
"Chris Wilder and I are both clear about that and the players are clear about that. It won't be easy but if we all pull together, get our heads down and work hard, we can achieve the ambition that the players, the staff and the supporters all share. Promotion."
Meanwhile, defender Michael Duberry is a major doubt for the start of the season with a neck injury.
A first injection has failed to clear up the problem, so the 37-year-old will have a second course of treatment.