Portsmouth to face points deduction to enter League One
Last updated on .From the section Football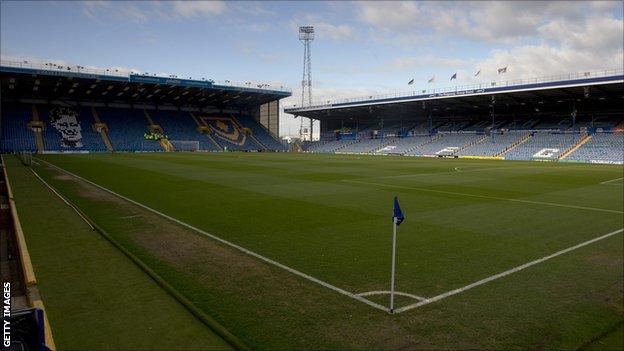 Portsmouth have been told by the Football League they will start the new season on -10 points if they are to be allowed into League One.
Pompey are currently in administration while the Pompey Supporters' Trust and Balram Chainrai vie for ownership.
As well as a 10-point deduction, the club must also meet other conditions, including paying all football creditors in full and strict financial controls.
Pompey administrator Trevor Birch said the points deduction was "unjustified".
The deduction would leave Portsmouth, who only have eight senior players on the books following Thursday's departures of Aaron Mokoena and Hayden Mullins, facing a battle to avoid a second successive relegation before the new season even gets under way.
They were relegated from the Championship last season after being deducted 10 points for going into administration for the second time in three seasons in February.
In a statement on the club website Birch said: "We are extremely disappointed that the Football League has decided to impose yet another penalty on the club.
"I think most people would agree that the 10-point deduction imposed last season was sufficient, particularly as it played a huge part in the club's relegation to League One.
"The fans, players and staff have suffered enough for something for which they weren't responsible. We feel it is unjustified for the club to be punished further.
"We've made it clear to the League that Portsmouth needs all the help it can get at the moment, which makes today's decision very harsh.
"I'm confident, though, that the club will bounce back from this latest setback. It's not a club that gives up that easily."
Birch said he planned to hold further talks with the League in an attempt to get the points deduction reversed.
"We will continue to do all we can to give Portsmouth the best possible chance of survival," he added.
On top of starting the new season on -10 points, Pompey's prospective new owners must agree that only a limited proportion of the secured debt can be carried forward into the new company.
They must also agree to pay all football creditors in full, unless an alternative agreement is reached.
And they must agree to restrictions on playing budgets, future borrowing and loan repayments for the next five seasons.
In a statement the Football League said the conditions of membership offered to Portsmouth "seek to ensure the sporting integrity of league football and the financial viability of the club going forward".