Harrogate Town's Mark Cook set for move to Peru
Last updated on .From the section National League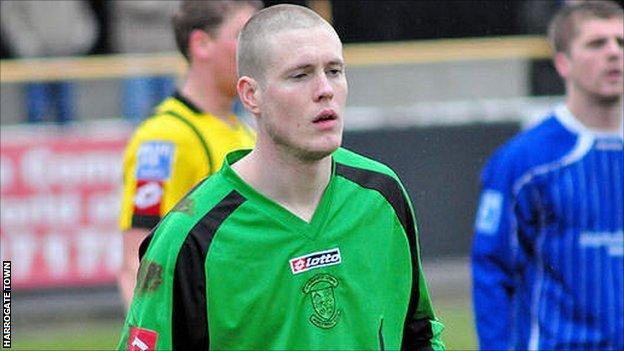 Harrogate Town goalkeeper Mark Cook could be set to join Peruvian top-flight club Universitario, who are managed by Nolberto Solano.
The 23-year-old was at Newcastle and Hartlepool at the same time as the 37-year-old former Peru midfielder.
Town manager Simon Weaver told BBC Radio York: "We're happy for him to go but we need things properly agreed.
"It's agreed in principle but we need confirmation and it done in an appropriate manner."
Cook joined Blue Square Bet North side Harrogate Town from Gateshead in 2010 and won last season's player's player of the year award.
Weaver said: "Cooky was valuable for us last year.
"But if a player's mind is totally set on leaving and having a different challenge and moving to a different country, then I don't think we as a Conference North club at the minute are in a position to withhold his signature at all costs and be so stubborn about it and say a flat 'no'.
"We've talked for quite a while about this and an agent has become involved on behalf of Nobby Solano and the club over there.
"We've already had a couple of goalkeepers training with us.
"We've got to make sure everyone at Harrogate Town definitely wants to be at Harrogate Town, and behind everything we're trying to achieve.
"There's no need to rush and panic and take up the first offer of someone who says they'd like to be the new keeper.
"We need to make sure that he's as good or if not better than the previous goalkeepers we've had here."